Capsule brings first comet dust to earth
(AP)
Updated: 2006-01-16 06:54
After a seven-year journey, a NASA space capsule returned safely to Earth on Sunday with the first dust ever fetched from a comet, a cosmic bounty that scientists hope will yield clues to how the solar system formed.
The capsule's blazing plunge through the atmosphere lit up parts of the western sky as it capped a mission in which the Stardust spacecraft swooped past a comet known as Wild 2.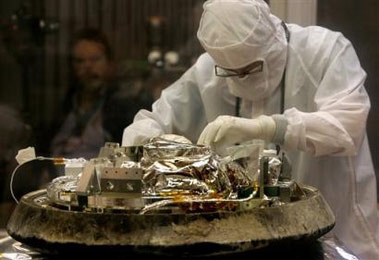 Ron Ceeders, a Lockheed Martin technician, unbolts a canister containing comet dust from the Stardust capsule in a clean room Sunday, Jan. 15, 2006, at Dugway Proving Ground, Utah. [AP]
"This is not the finish line. This is just the intermediate pit stop," said project manager Tom Duxbury of the Jet Propulsion Laboratory in Pasadena, Calif., which managed the $212 million mission.
About a million comet and interstellar dust particles ¡ª most smaller than the width of a human hair ¡ª are believed to be inside a sealed canister.
The particles are thought to be pristine leftovers from the birth of the solar system about 4.5 billion years ago. Some samples could be even older than the sun.
The next stop for the capsule is the Johnson Space Center in Houston, where scientists will unlock its canister later this week. After a preliminary examination, they will ship the particles to laboratories all over the world for further study to analyze their composition.
"Inside this thing is our treasure," said principal mission scientist Don Brownlee of the University of Washington.
Stardust's successful return was welcome news to the space agency, which suffered a setback in 2004 when its Genesis space probe carrying solar wind atoms crashed into the same Utah salt flats and cracked open after its parachutes failed to deploy.
After the Genesis mishap, engineers rechecked Stardust's systems. Duxbury said its return home went "like clockwork."
Early Sunday, the Stardust mothership released the shuttlecock-shaped capsule, which plunged through the atmosphere at 29,000 mph.