Families of haj fatalities to get compensation
By Guo Nei (China Daily)
Updated: 2006-01-16 05:29
Families of the four Chinese Muslim pilgrims who were killed in a haj stampede in Saudi Arabia which claimed 362 lives last week will receive 50,000 yuan (US$6,200) for each death from the Chinese Islamic Association.
About 20,000 Muslims gathered in Xining, capital of Northwest China's Qinghai Province, on Friday to pray for the souls after religious leaders informed the crowd of the identities of the deceased.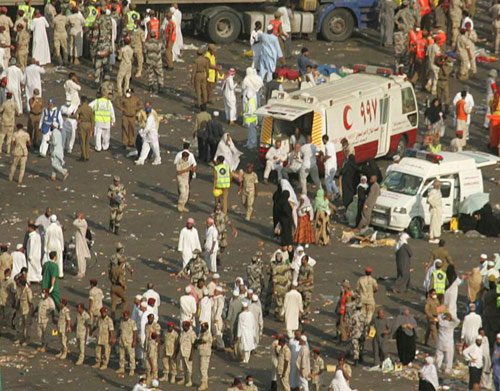 Bodies of pilgrims are removed in Mena outside Mecca January 12, 2006. At least 362 people were crushed to death on Thursday during a stoning ritual on the last day of the hajj, the worst tragedy to beset the sacred ritual in more than a decade. [Reuters]
Grieving family members remained calm yesterday. "Families regard such deaths as predestined, and don't have much complaint," said Ma Yicai, director of the provincial religious council.
He said the municipal government had offered condolences to the victims' families. However, the request of family members of the deceased to fly to Saudi Arabia had not been fulfilled yet as there was no plane currently available.
In Saudi Arabia, a Chinese working group is still handling the aftermath, and the Saudi Government has made arrangements for the bodies.
"They have a set of procedures, but it might take longer to deal with it because of the massive number of fatalities," Ma said.
Some spouses and children had travelled with the victims and they were well settled, he added.
The Chinese pilgrims were expected to come back as early as on January 21, but the date will probably be postponed due to the accident.
China has about 18 million Muslims. According to religious customs, it is a once-in-a-lifetime duty for every able-bodied Muslim to attend the pilgrimage.
In recent years, the number of Chinese pilgrims taking part in haj has been on the rise as the journey has become increasingly convenient.
Since last year, pilgrims have been able to take chartered planes from Lanzhou, capital of Northwest China's Gansu Province, to Saudi Arabia.
Others take off from Beijing, Kunming and Urumqi.
The Chinese Islamic Association organizes the pilgrimage each year. It charters planes, helps obtain visas, fixes accommodation and even sends interpreters with the group.
This year, 20 planes were chartered for about 7,000 Chinese pilgrims, who need to pay roughly 23,000 yuan (US$2,800) each for a 40-day trip.
But the symbolic stoning ritual during haj can be very dangerous.
In Saudi Arabia, the government has started pulling down a disaster-prone bridge near the Muslim holy city of Mecca.
"The first stage of the projected overhaul of Jamarat Bridge in Mina began on Saturday and will be completed and ready for next year's haj," said Osama al-Bar, who heads a government centre that helps organize the annual five-day pilgrimage.
"Jamarat Bridge has become the most sensitive area in haj."
Pilgrims were killed as they jostled to perform a stoning ritual at the bridge on Thursday, the last day of this year's haj, when more than 2 million Muslims converge on Saudi Arabia.
In 2004, about 250 pilgrims were crushed to death at Jamarat Bridge. A decade earlier, 270 were killed in a similar stampede.
(China Daily 01/16/2006 page2)