Thousands join campaign to name pandas
By Liu Weifeng (China Daily)
Updated: 2006-01-16 05:29
"Tuan Tuan" and "Yuan Yuan" are the most popular names so far suggested for the two pandas that have been selected as gifts for Taiwan.
The names, along with thousands of others, were suggested by ordinary people who voted in a selection process set up by Sina.com.
The pandas will be officially named later this month before, hopefully, being handed over to the Taiwan authorities.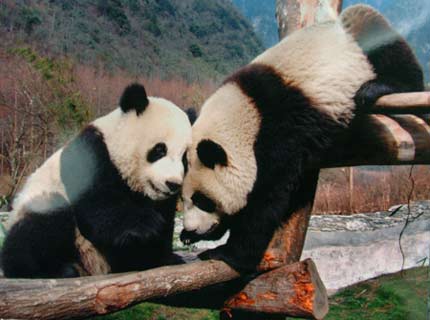 Two pandas play at the China Giant Panda Research Centre in Wolong, Southwest China's Sichuan Province in this undated photo. The pair has been chosen as a goodwill gift to the Taiwan compatriots, the State Forestry Administration said January 6, 2006. [Xinhua]
Taiwan authorities have not yet said it will accept the pandas. Two pandas were first offered as gifts when Taiwan's opposition leader Lien Chan visited China last year.
Symbolizing reunion after a long separation, the word tuan yuan in Chinese means harmonious gathering.
This name received 16.4 per cent support, more than 50,000 voters, on Sina.com.
As of yesterday afternoon, some 310,000 people had voted, suggesting a total of 65,000 names for the pair.
"All the names was the strong expression of people's hopes for reunion," said Liang Chunyuan, chief of the news at Sina.com. Voting started on January 6.
Other hot names are "He He" and "Ping Ping" (he ping means peace in Chinese); "Lu Lu" and "Wan Wan" (representing the Chinese mainland and the Taiwan Straits).
Sponsored by the State Forestry Administration, the Taiwan Affairs Office and the China Wild Conservation Association (CWCA), the naming project is set to run until Saturday.
The top 10 names will then be sent to the CWCA for assessment.
"The final choice is to be announced on the Spring Festival programme broadcasted by CCTV on Lunar New Year's Eve," said Chen Runsheng, secretary-general of the CWCA.
One voter is to be selected to join a tour to visit the pandas at their current home at the Wolong Nature Reserve, in Sichuan Province.