Hu calls for three direct cross-Straits links
(chinadaily.com.cn)
Updated: 2006-01-15 10:43
President Hu Jintao Saturday called for the three direct links between the Chinese mainland and Taiwan when meeting Taiwan businessmen in Xiamen, East China's Fujian Province.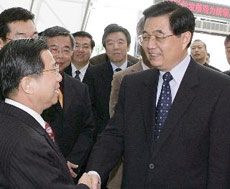 President Hu Jintao talks with a Taiwan businessman in Xiamen, East China's Fujian Province January 14, 2006. [Xinhua]
The direct links in mail, transport and trade are sure to benefit the co-operation and exchanges across the Taiwan Strait, conform to the common intersts of the compatriots on both sides and are the aspirations of Taiwan business circle, Hu was quoted by the China News Service as saying.
He urged related non-governmental organizations on both sides to start talks in this regard and realize the links at an early date, he said during the tour in Taiwan Investment Zone in Haicang, Xiamen. The zone is the largest national-level Taiwan Investment Zone in the mainland.
The Taiwanese-invested enterprises in the zone are faring well, which once again showed that Taiwan businessmen's investment in the mainland can help them get a better return, can help promote cross-straits economic and trade cooperation and can help promote the joint development of mainland and Taiwan economy, Hu told Taiwan businesmen.
Hu welcomed more businessmen from the island to invest in the mainland and vowed to provide them needed help and good service.
The president reiterated his commitment that the mainland will try its utmost to do and do well anything that is beneficial to the Taiwan comaptriots and to cross-straits exchanges.
Hu extended his Spring Festival greetings to the Taiwan businessmen. The Spring Festival, an equivalent to Christmas, is the traditional Chinese New Year in lunar calendar and is the most important holiday for the Chinese.