Chen Suhou - from dignitary to farmer
(Xinhua)
Updated: 2006-01-15 09:41
Living in a small, remote village with only 170 households, Chen Suhou, former vice governor of Hainan from 1990 to 1997, is now an ordinary farmer.
Like other residents in the village of Songmei, Chen has a vegetable plot in front of his house, dotted with several sorts of greenstuffs.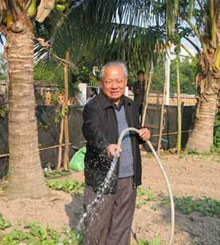 Chen Suhou works in his vegetable plot in Hainan. [Xinhua]

All the people in the village are familiar with the 70-year-old retiree and in fact the old man is known to everyone in China's southernmost island province of Hainan.

He was responsible for the province's agriculture in the first few years and then Chen was elected vice head of the standing committee of the provincial people's congress, shifting his work focus to law making.

In 2003, Chen ended his official career and retired.

Currently, China has about 1,540 retired high-ranking officials like Chen, most of whom live in rest homes in metropolitan areas with perfect medical and health services and many other conveniences.

Some decide to continue their careers and become counselors of various social organizations.

But Chen said he preferred a simple life so he chose to leave the province's capital Haikou City and returned with his wife to his hometown Songmei Village in Lingao County.

Chen admits that his original idea was to live a peaceful life close to nature.

But the plight of the village changed his ideas, Chen said.

When the retired official went back in 2003, Songmei Village was in a state of abject poverty.

The villagers made their living merely on growing rice and their average annual income was only about 1,000 yuan (123.5 U.S. dollars).