Saddam judge offers resignation - official
(AP)
Updated: 2006-01-15 09:00
The chief judge in Saddam Hussein's trial has submitted his resignation after becoming fed up with criticism that he had let the proceedings spin out of control, a court official said Saturday.
But it wasn't clear if Rizgar Mohammed Amin's resignation had been accepted amid behind-the-scenes efforts to change his mind.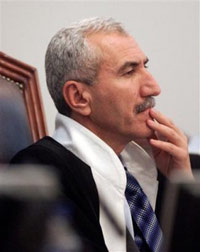 Presiding Judge Rizgar Mohammed Amin presides over the trial of Saddam Hussein inside the Green Zone in Baghdad, Iraq, Wednesday, Dec. 7, 2005. [AP]

Amin is the head of a five-judge tribunal overseeing the case against Saddam and seven co-defendants for the deaths of more than 140 Shiite Muslims in the town of Dujail in 1982 in retaliation for an assassination attempt.

The chief prosecutor in Saddam's trial, Jaafar al-Mousawi, told The Associated Press that Amin's resignation — if accepted — would not affect the proceedings because he could be quickly replaced.

"There are substitutes. If any judge wanted to resign it wouldn't hinder the trial process," he said.

Amin would be the second judge to step down in the case. Another member of the panel recused himself in late November because one of the co-defendants may have been involved in the execution of his brother. That judge was replaced.

A court official, speaking on condition of anonymity because of the sensitivity of the case, said Amin had offered to resign but efforts were under way to get him to reverse the decision.

The U.S. military, meanwhile, said a Marine was killed Friday by small-arms fire during combat in the western town of Ramadi, raising to at least 2,215 the number of American troops who have died since the Iraq war started in March 2003.

Electoral officials also said results from the Dec. 15 parliamentary vote could be certified by next week after repeated delays, opening the way for negotiations to formally get under way for the formation of a broad-based coalition government.

In the Saddam case, the chief judge — who is the only one of the five to be identified publicly due to security concerns — has been dismayed by the way he had been attacked in the media by critics who said he allowed the proceedings to get out of hand, the official said.

Saddam has often grabbed the spotlight during the nearly three-month-old trial. He has railed at the judge, refused to show up at one session, claimed he was tortured and openly prayed in court when the judge would not allow a recess.