2 billion trips expected during holiday
(Xinhua)
Updated: 2006-01-15 08:45
China on Saturday announced the start of the annual peak travel season around the traditional Spring Festival, or Chinese lunar new year, which falls on January 29.
Railways, highways, passenger ships and airlines around China are bracing up for the festival transport peak. The country has identified a 40-day period - from Jan. 14 to Feb. 22 - as the peak travel season.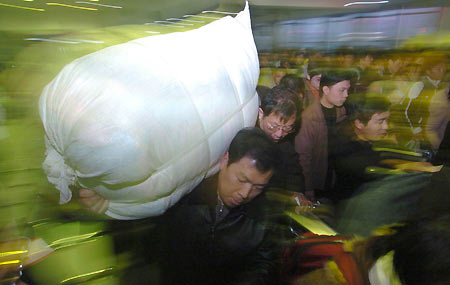 Passengers carry their luggage in a train station in Nanjing, Jiangsu Province January 13, 2006. [Xinhua]
Chinese transport departments estimated the total number of passengers for journeys to be close to 2 billion this year, over 90 percent of whom would choose land transport.
A record 301 pairs of temporary trains are expected to be launched on Chinese railways for the peak travel season, according to the Ministry of Railways. This is 59 pairs more than that for last year's festival, up 24 percent.
About 700,000 large and medium-sized buses will go into service during this season, said Vice Minister of Communications Feng Zhenglin.
Both railway and highway transport departments have temporarily increased the number of ticket offices and extended the selling period to cope with the soaring demand in the peak season.
The number of railway ticket offices in the national capital Beijing has amounted to 1,087 during the travel season, according to official statistics.
The Ministry of Communications also expected that 28 million people will choose water transport during the season, up 1.5 percent year on year.
Meanwhile, about 15 million passengers will travel by air, and Chinese airlines plan to add 8,400 flights during the season.
Air China, the country's flag carrier, has arranged a total of 1,624 charter flights during the imminent Spring Festival.
The added charter flights grew 34 percent as compared with the previous Spring Festival period, with some 239,000 more seats provided, Air China said.
A special office was set up by Air China to monitor the Spring Festival transportation situation.
People around China greet the traditional Spring Festival as very special days for family reunion. For years, the nationwide transport network was strained during the season, as millions of migrant workers and other people hurried back home and returned to their work places in just two weeks.
On Saturday morning, Minister of Communications Li Shenglin paid a visit to a long-distance coach station in southern Beijing, during which. he said he hoped that no serious traffic mishaps would occur and no passenger would spend the Lunar New Year's eve in station halls.