China warns Japan about Lee Teng-hui visit
(Reuters)
Updated: 2006-01-13 07:02
China warned Japan on Thursday that a possible visit by former Taiwan leader Lee Teng-hui could further raise tensions between Beijing and Tokyo.
A Tokyo newspaper said on Wednesday Lee planned to travel to Japan in May, and Japan's Chief Cabinet Secretary Shinzo Abe said the government had yet to decide whether to grant him a visa.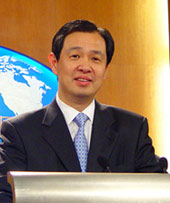 Chinese Foreign Ministry Spokesman Kong Quan

Beijing reviles Lee as a "splittist" who, as the island's leader from 1988 to 2000, pushed for Taiwan's independence from the mainland.

"If you look at his past, you know him now; if you look at him now, you know what he'll be like in the future," Foreign Ministry Spokesman Kong Quan said of Lee.

Kong told reporters at a regular briefing that "Japan is crystal clear what sort of man he is" and should deny him a visa under any conditions. Otherwise, Kong said, Japan would be "providing a speaking platform for Taiwan separatists."

The daily Yomiuri newspaper said Lee, who studied in Japan during World War Two and speaks fluent Japanese, may visit for two or three weeks from May 10 at the invitation of private groups.

Beijing's ties with Tokyo are deeply strained by Japanese Prime Minister Junichiro Koizumi's repeated visits to a war shrine seen by critics as a symbol of Japan's past militarism.

Abe said that Lee had not applied for a visa, but added: "We would deal with a visit by Lee or other prominent figures from Taiwan appropriately in line with our basic policy toward Taiwan."

The Yomiuri said Japan would decide whether to issue Lee a tourist visa after confirming whether he would refrain from political activities.

A visit by Lee to Japan from late December 2004 to early January 2005 sparked furious protests from Beijing, which accused Tokyo of encouraging independence for Taiwan.

An earlier trip Lee made to the United States in 1995, when still Taiwan leader, also provoked bitter criticism from Beijing.

Lee, who turns 83 on January 15, now heads a small party that rejects Taiwan's reunification with the mainland and supports steps to independence.

He tried to raise Taiwan's diplomatic profile during his 12-year tenure, redefining the island's ties with Beijing in 1999 as "special state-to-state" relations and causing Beijing to break off fence-mending talks.

Japan angered China when it agreed with the United States last February that the Taiwan Strait issue was a mutual security concern.

The Chinese spokesman Kong also said on Thursday that Japanese groups' proposals to expand military cooperation with Washington in the Strait may harm regional security.