Hill visits Beijing to push for nuke talks
By Xiao Qin (China Daily)
Updated: 2006-01-13 05:48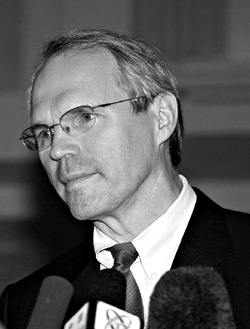 Christopher Hill: Getting all parties together
Vice-Foreign Minister Wu Dawei met his US counterpart Christopher Hill yesterday afternoon in Beijing and once again called on all the involved parties to make joint efforts to resolve the six-party nuclear talks.
Hill, the chief US negotiator on the issue, was in Beijing for several hours to discuss ways to push talks forward after stopovers in Seoul and Tokyo.
During the talks, Wu reiterated China's longstanding position on the nuclear issue, which is the adherence to a nuclear-free Korean Peninsula and a peaceful solution through dialogues.
Foreign Ministry spokesman Kong Quan told reporters in yesterday's press conference that China hoped all parties would continue to work closely together.
"All parties must show goodwill and sincerity to push forward developments," Kong said.
On his arrival in China, Hill told reporters in the airport that the date for the resumption of the negotiations would be a major theme of the discussions and Washington remains committed to the six-party process.
"We need all six parties to agree on a date, so I'm looking forward to hearing from my Chinese colleagues how they're doing in getting all the parties together," Hill was quoted as saying.
Hill left Beijing on the same day and will continue his Asian tour to Viet Nam, Malaysia and Cambodia.
The fifth round of talks aimed at ending Pyongyang's nuclear programme which also involves Beijing, Washington, Seoul, Moscow and Tokyo concluded without an agreement on November 11 in Beijing.
(China Daily 01/13/2006 page2)