Extraction of bear bile 'painless, necessary'
By Zhao Huanxin (China Daily)
Updated: 2006-01-13 05:46
Illegal raising of bears or extracting their bile in a cruel manner will attract severe penalties, a senior wildlife official said yesterday in Beijing.
But approved bear farms will continue to exist in China for the time being, as painlessly-extracted bile is crucial for medical purposes, he said, adding that farming has vastly helped prevent poaching.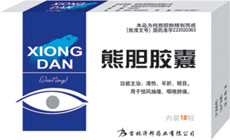 A drug that contains bear bile is shown in this file photo.

"Before we find good alternatives for bear bile, we do not have a timetable to eliminate the practice (extracting bile from the gallbladder of farmed bears)," Wang Wei, deputy chief of the Department of Wildlife Conservation under the State Forestry Administration, told a press conference.

It was organized by the State Council Information Office in response to foreign media's concerns about bile extraction and other animal-welfare issues.

Bear bile, considered an indispensable ingredient in traditional Chinese medicine, is used in 123 drugs and has an efficacy not matched by any other substitute, Wang said.

As a result, a host of patients rely on bile-containing medicines for treatment. "So we must consider both the needs of medical treatment and the protection of wild bears, and find a win-win solution," Wang said.

Bear farms for extracting bile were set up in the mid-80s as a way to stop hunting of the endangered and protected animals in China, Wang said.

He cited statistics as saying one bear in a farm prevents 220 being killed in the wild for their bile.

When bile-extraction technology was introduced to China, some used surgically-implanted metal tubes, causing tremendous pain to the animals, Wang said.

"That was a practice we are opposed to," he said, adding it happened before China's Wildlife Protection Law was enacted in 1988.

Since then, China has been using advanced techniques, such as tubes made of bear tissue, to make the process painless.

In addition to capping production of bile powder, illegal or substandard farms have been shut down, reducing the number of farms from at least 480 in the early 1990s to 68 fully regulated ones, where about 7,000 bears live in a suitable environment.