Four Chinese pilgrims among 345 dead in Hajj stampede
(AP/chinadaily.com.cn)
Updated: 2006-01-13 06:39
Muslim pilgrims tripped over luggage while hurrying to ritually stone the devil Thursday, causing a crush that trampled at least 345 people to death in the latest stampede to mar Islam's annual hajj.
Among the dead, four were confirmed to be Chinese nationals, according to a Foreign Ministry statement. Chinese diplomats have gone to the site to gather information and to handle the tragic accident. Several Chinese pilgrims were injured and were discharged from hospital after treatment.

According a CRIonline report quoting China Muslim pilgrimage group, all the four dead were from Qinghai Province in western China, and one of them was a woman.
The four were: Ma Delin, male, born in 1944; Ma Taishan, male, born in 1943, Sha Tianlu, male, born in 1947; and Ru Geya, female, born in 1956.
Chinese President Hu Jintao instructed the Foreign Ministry and other departments take measures to help the injured and to properly handle the sad incident. Hu also sent a telegram of condolence to Saudi King, according to the foreign ministry.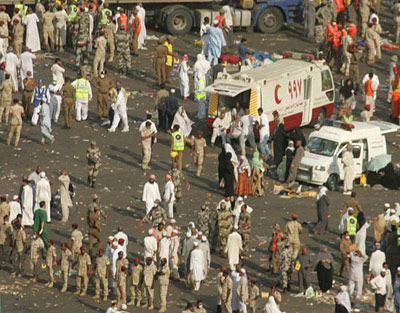 Bodies of pilgrims are removed in Mena outside Mecca January 12, 2006. At least 345 people were crushed to death on Thursday during a stoning ritual on the last day of the haj, the worst tragedy to beset the sacred ritual in more than a decade. [Reuters]

Saudi authorities have sought for years to ease the flow of increasingly mammoth crowds, but the tragedy underlined the difficulty in managing one of the biggest religious events in the world, which this time drew more than 2.5 million pilgrims.

The deaths on the final day of stoning came a week after another hajj disaster — the Jan. 5 collapse of a building being used as a pilgrims' hotel that killed 76 people in Mecca.

In the stoning ritual, all the pilgrims must pass a series of three "pillars" called al-Jamarat, which represent the devil and which the faithful pelt with stones to purge themselves of sin.

The site in the desert of Mina outside the holy city of Mecca is a notorious bottleneck in the weeklong pilgrimage and has seen deadly incidents in seven of the past 17 years, including a stampede in 1990 that killed 1,426 people and one in 2004 that killed 244.

"I heard screaming and ... saw people jumping over each other," said Suad Abu Hamada, an Egyptian pilgrim. "Police starting pulling out bodies. The bodies were piled up. I couldn't count them, they were too many."

Bodies covered in white sheets lined the pavement near the ramp where the stampede occurred, and emergency workers rushed the injured away on stretchers. Police cleared part of the site, but thousands of pilgrims continued the stoning ritual.