Nation's richest divulge luxury tastes
By Mark South (China Daily)
Updated: 2006-01-12 07:04
When wanting to arrive in style, China's millionaires like nothing better than a chauffeur driven Rolls Royce, but if they are getting behind the wheel themselves it is the Bentley that will enjoy a day out of the garage.
That's according to the Hurun Report's 2006 Best of The Best awards, a survey of brands preferred by the Chinese mainland's growing army of US dollar millionaires.
Covering categories ranging from Best Yacht to Best TV Chat show, 600 Mainland Chinese entrepreneurs worth 10 million yuan (US$1.25million) or more were interviewed for the awards.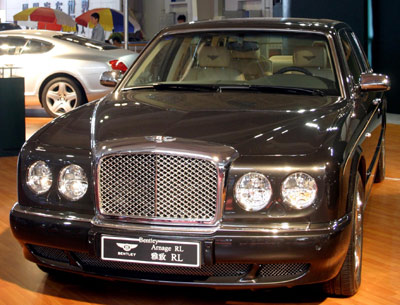 A bentley is on display in an auto show in Changchun, Northeast China's Jilin Province August 14, 2005. [newsphoto]
What's the point behind this survey of the super rich in a country where the average wage is less than US$200 per month?
"It's inspirational," explains Hurun's Mica Quinn. "China has changed a lot and being conspicuously wealthy is no longer frowned upon as it has been in the past. If you ask young people today what they want to be in the future they will tell you they want to be rich.
"Because of the way China's economy is growing, today's white collar workers could be tomorrow's millionaires or billionaires luxury brands know they need exposure to people at all levels."
As well as being a celebration of luxury brands and an affluent lifestyle, the results of the survey also provide useful information for the companies involved, says Quinn, with a regional breakdown allowing companies to see where they are strong and, more importantly, where they need to improve.
This regionalization also threw up some interesting differences between entrepreneurs across the country.
Beijing's rich favoured the US as a travel destination, while Shanghai's elite opted for Europe and France. Overall, however, it was Australia that came out on top.
Elsewhere, the awards were dominated by European brands with Bentley, Rolls-Royce, Mercedes Benz, BMW, Porsche and Ferrari all claiming honours in the motoring section with Buick the sole US representative with an award for Best Executive Car For Business Use.
In the Watches, Jewellery and Fashion section Vacheron Constantin, Cartier, Rolex, Montblanc and Giorgio Armani swept the board, while Hennessy, Chivas Regal and Dom Perignon claimed prizes for Best Cognac, Whisky and Champagne.
Best Chinese Liquor went to Wuliangye, and other Chinese brands also cropped up: Air China took the gong for Best Domestic Airline, the Chang'an Club was named Best Private Club, Tsinghua University carried off the Best Executive MBA Course and China Merchant's Bank received awards in the Best Personal Financial Services for RMB and Best Bank for Issuing Credit Cards categories.
Managing director of Vacheron Constantin Asia Pacific,Jean-Michel Paray, whose watches retail for tens of thousands of US dollars, said he was delighted with the award.
"You can't realize how important this award is for us. We've just been celebrating our 250th anniversary of making watches, making us the oldest watchmaker in continuous operation in the world, and in our archives we've just discovered a watch made for China in 1805, which makes us the oldest watch exporter to China. After receiving awards from within the trade, it's wonderful to get one from our customers."
A full list of winners and a regional breakdown is available on the Hurun Web site at www.hurun.net.