Tanigaki urges review of Japan's hefty UN dues
(Reuters)
Updated: 2006-01-11 10:26
Japanese Finance Minister Sadakazu Tanigaki urged U.N. Secretary-General Kofi Annan on Tuesday to fix what Japan sees as a discrepancy between Tokyo's hefty U.N. dues and its limited role in the world body.
Japan is the second highest contributor to the United Nations after the United States and has long sought a permanent seat on the U.N. Security Council, so far without success.
Government officials have made veiled threats to cut its contribution -- totaling nearly 20 percent of the U.N. budget excluding peacekeeping -- if Japan fails to gain a permanent seat on the prestigious 15-nation council.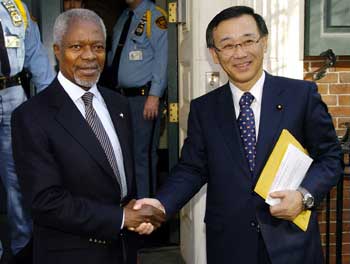 U.N. Secretary-General Kofi Annan (L) shakes hands with Japanese Finance Minister Sadakazu Tanigaki (R) after a meeting in New York January 10, 2006. Tanigaki visited Annan at his residence for a brief meeting as part of his tour of the U.S. [Reuters]

"Japan is the highest contributor after the United States, because of the size of its economy. I'm sure many feel this is hard to accept when compared to the role and responsibility that Japan is granted in the U.N.," Tanigaki told reporters in New York after talks with Annan.

Tanigaki, on a week-long visit to the United States, said he did not make any direct threats to cut contributions, but made clear he wanted to see change.

"The expression I used wasn't 'lower it.' But I did say that the U.N. fees should reflect the role and responsibility a member country holds within the U.N., as well as its economic power, and that the U.N. reforms should address this," he said. "I said this in a well-mannered way."

Tanigaki quoted Annan as saying that a broad consensus among the 191 U.N. member-nations was necessary for any council expansion.

After the failure of an effort it launched last year with Germany, India and Brazil, Japan is now working on its own proposal, this time focusing on winning U.S. support.

A Japanese Finance Ministry official said Annan told Tanigaki that success would depend on a package of solutions that would gain the support of all regions.

Japan is the only nation that Washington has endorsed so far for a new permanent seat on the council in addition to the current five permanent members -- China, Russia, Britain, France and the United States.

But U.S. officials have said they want the council to expand by only a few seats in all, and many nations are clamoring for any additional places around the council table.

Last year's proposal by Japan and its three partners had called for the addition of six permanent seats to the council -- four for themselves and two for Africa -- and four nonpermanent seats, for a total of 25.

The council's current structure reflects the balance of power at the end of World War Two. In addition to the five permanent members with veto power, 10 other nations rotate on and off with two-year terms.

Tanigaki is due to meet U.S. Treasury Secretary John Snow later on Tuesday, and is also due to meet other top U.S. officials later in the week.

The meetings with leading U.S. figures may help raise his political profile ahead of this year's election for the head of the ruling Liberal Democratic Party, a job that also carries with it the post of prime minister. Prime Minister Junichiro Koizumi steps down in September.