"Happy" Shanghai tops major city poll
(China Daily)
Updated: 2006-01-05 10:55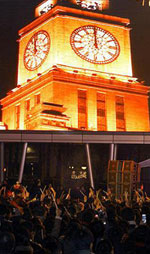 People in Shanghai celebrated the New Year's eve in Nanjing Road, one of Shanghai's most properous streets. [baidu.com]

Shanghai is the happiest place in which to live out of China's three biggest cities, a recent survey claims.

Residents in Beijing and Guangzhou polled by the Shanghai Urban Investigation Team under the local government also rated it as their preferred place to live in.

Forty-nine per cent of those questioned in the three cities considered living in Shanghai the most comfortable, while 29 per cent chose Beijing and 22 per cent Guangzhou.

Eighty-five per cent of Shanghai locals feel happy with the city, while only half of Guangzhou citizens like their city. Seventy-nine per cent of Beijing citizens who were questioned are satisfied with the capital city of China.

One of the perceived benefits to living in Shanghai is better wages.

"I want to find a comparatively better-paid job in Shanghai, then hopefully I can afford to buy a house here in less than 10 years," said Wang Dandan, 21, a graduate student at the Shanghai International Studies University, who was born in Guangzhou and came to Shanghai four years ago.

Wang said: "Guangzhou is good, but Shanghai is better, as Shanghai recognizes the individual. If you live in Shanghai you live in a world of opportunities and fun."

Wang's dream of settling in Shanghai was echoed by non-local fellow students at the university.

"Shanghai is the place where you can fulfil your life more excitingly," said Zhao Min, one of Wang's fellow students, who came from Anhui Province.

A series of statistics in Li's book explains more about these Shanghai-dreamers. More than 90 per cent of Shanghai citizens who were polled are content with their quality of life as a whole.

Half of Shanghai residents think that the rise in the cost-of-living index has been at least matched by an improvement of living quality, with the more they earn the more they can spend.

Average annual disposable earnings per person for urban citizens came to 16,683 yuan (US$2,035) in 2004, an increase of 12.2 per cent compared with 2003.

The research also showed that around 72.5 per cent of people aged from 18 to 35 who had obtained bachelor's degrees or above agreed that income was an important guideline for the quality of life and an even higher percentage of people (87.5 per cent) with a monthly income above 10,000 yuan (US$1,220) agreed.