CNOOC: Rising gas price facilitates bidding abroad
(Dow Jones)
Updated: 2006-01-02 10:41
The chairman of CNOOC Ltd. (CEO), China's largest offshore oil producer by production, said Saturday he expects the domestic price of natural gas to rise further on robust demand, giving the company more room to make higher offers in acquiring overseas gas assets in the future.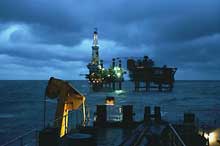 China National Offshore Oil Corporation's (CNOOC) oil rigs is seen in China's Liaodong Bay of the Bohai sea February 3, 2005. [newsphoto]

Analysts said China, which has been hunting upstream assets overseas since it became a net crude importer in 1993, is moving towards narrowing the natural gas price difference against the international prices. It makes China more competitive in bidding overseas gas assets with other energy-hungry countries with deep pockets such as India and Japan.

Fu Chengyu, Chairman of CNOOC Ltd., told reporters after the shareholders' meeting: "As the affordability of domestic users increases, which means we can offer higher prices to buy assets overseas. It's very positive to our company."

China raised domestic factory prices of natural gas, by an average of 5% to 15% on Dec. 26, the largest adjustment since 1997. The increase is aimed at making up for high production costs of oil companies, and providing incentive for upstream investment.

"As China's economy is growing rapidly, our demand for energy is growing as well, which means the prices of natural gas will also be adjusted accordingly," Fu said.

The government also said China's long-term goal is to form a complete market-oriented price mechanism of natural gas.

In late November, Chevron Corp. (CVX) scrapped a tentative A$30 billion agreement with CNOOC Ltd.'s unlisted parent, China National Offshore Oil Corp., for CNOOC to become a foundation customer in the Australian Gorgon gas project. Chevron said the price the Chinese were willing to pay was too low.

China remains concerned over an increasing shortage of natural gas in the next five years, caused by sharply rising demand versus limited production capacity.

Demand for natural gas is expected to grow 26% annually in the next five years, overtaking the 17% growth rate in output, according to the National Development and Reform Commission, the country's top economic planning agency.

The country's natural gas output in the first 11 months of this year rose 20.8% on year to 44.57 billion cubic meters.

Separately, shareholders of CNOOC Ltd. voted Saturday on whether they approve the company modifying legal agreements with its unlisted parent, in a move that will give the parent a right to bid for upstream overseas assets.

The changes would mean the group is likely to enjoy more government support in negotiations and won't have to disclose information as a listed company does.

The change comes after CNOOC Ltd. withdrew in August its US$18.5 billion bid to buy US oil and gas producer Unocal Corp. because of political pressure in the US.

The result of the vote will be announced Jan. 3.

Fu also said CNOOC Ltd. will stay focused on upstream operations in the near future, and has no plan to acquire downstream assets from its parent.

China National Offshore Oil Corp. in December began construction of a refinery in southern China, with an investment of CNY19.3 billion, which is expected to be operational by late June 2008.

The refinery will annually produce a combined 7.3 million tons of gasoline, diesel and kerosene, 1.5 million tons of ethylene feedstock and 800,000 tons of p-xylene.