Safety given top priority at Beijing Olympics
By Zhu Zhe (China Daily)
Updated: 2005-12-29 06:51
Security measures are in full swing to ensure a safe and peaceful Beijing 2008 Olympic Games, officials said yesterday.
Among them are regulations to be released next year, which will spell out requirements on traffic control, behaviour at venues and what to do in the case of an emergency.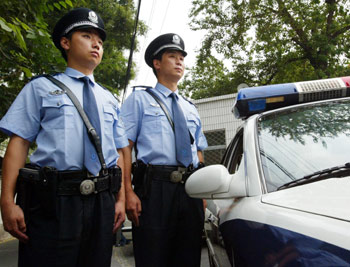 Police officers are ready for a mission in Beijing in this photo taken in September, 2005. [newsphoto]
"The temporary regulations will only apply to Beijing during the Games," said Lu Shimin, deputy chief of the Beijing Public Security Bureau. "It is something that we will focus on next year, and currently we are collecting views from home and abroad."
Lu, also head of the security department of the Beijing Organizing Committee for the Games of the XXIX Olympiad (BOCOG) also disclosed a plan to build a security headquarters, which will include a traffic control centre, two fire fighting stations and a police bureau. Construction of these facilities will begin in April and be completed by the end of 2007.
Next year, a new security system that will categorize all Olympic venues into A, B, C and D, based on the number of spectators and the nature of the event, will be implemented and tested. It aims to ensure that ample security personnel and measures are deployed.
Police forces will be assigned one of three different tasks to deal with different situations.
As for each venue, its surroundings will be taken into account when drafting security plans.
"We'll test the system next year in big sporting events such as the China Open and Beijing 2006 World Junior Championships," said Yu.
To prevent terrorist attacks, a special-forces team of 150-personnel has been set up for the Games. This team may be expanded next year.