China demands US lift sanctions on firms
(AP/chinadaily.com.cn)
Updated: 2005-12-28 20:36
Chinese government on Wednesday demanded that the United States lift sanctions imposed on six Chinese companies accused of supplying Iran with missile technology or chemical arms material.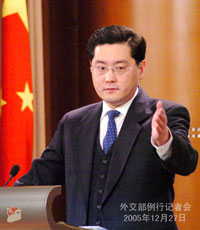 Qin Gang, Foreign Ministry spokesman, answers a question at the ministry's routine press briefing in Beijing this this December 27, 2005 file photo. [fmprc.gov.cn]

The Chinese firms are barred from receiving U.S. import licenses and from doing business with the American government under penalties announced Tuesday by the U.S. State Department.

"We express strong dissatisfaction and resolute opposition to the sanctions," the Chinese Foreign Ministry said in a statement. "We demand that the United States change this mistaken action."

Qin Gang, spokesman of the Chinese Foreign Ministry, said China opposes the US move of imposing sanctions on Chinese companies by force of its domestic laws. He said the US move is detrimental to cooperation in the field of preventing proliferation.

"We urge the US side to change this kind of wrong moves," Qin said.

Washington has repeatedly sanctioned Chinese companies accused of providing missile and other weapons technology to Iran, Pakistan and other governments in violation of international weapons controls.

The Foreign Ministry statement said Beijing has a "responsible attitude" toward preventing weapons proliferation and has taken steps to tighten export controls.

In making the announcement Tuesday, US State Department spokesman Adam Ereli said the sanctions were based on "credible evidence," which he did not disclose.

The companies on the U.S. list were the China Aerotechnology Import Export Corp.; military contractor China Northern Industries Corp.; Zibo Chemet Equipment Co.; the Hongdu Aviation Industry Group; Ounion International Economic and Technical Cooperative Ltd. and the Limmt Metallurgy and Minerals Co.

Employees who answered phone calls on Wednesday to those companies said they had no information about possible sales to Iran.