North Korea's priority is ties with US - South Korea
(Reuters)
Updated: 2005-12-27 17:18
North Korea is more interested in establishing diplomatic ties with the United States than it is in receiving economic aid, a top South Korean official said on Tuesday.
North Korea agreed at six-country talks in September to dismantle its nuclear weapons programs in exchange for economic aid, security assurances and greater diplomatic recognition, including the eventual normalization of ties with Washington.
"I believe the most valuable thing that North Korea wants to get in return for abandoning its nuclear programs is the normalization of relations with the United States," Unification Minister Chung Dong-young told a news conference.
In February, North Korea declared for the first time it had nuclear weapons and in recent months has threatened to bolster its nuclear arsenal because of the threat it sees posed by the United States.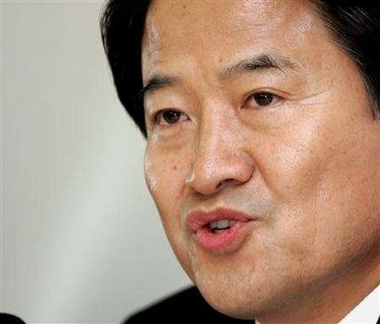 South Korean Unification Minister Chung Dong-young answers a reporter's question during a news conference in Seoul December 27, 2005. [Reuters]

"If North Korea normalizes its relations with the United States it will help dismantle the last remaining Cold War structure and create a peace regime on the Korean peninsula," Chung said at the conference with foreign journalists.

The resumption of six-party talks among the two Koreas, China, Japan, Russia and the United States has hit a snag over a U.S. crackdown on North Korean finances.

The United States has clamped down on several North Korean companies it suspects of being involved in counterfeiting, money laundering and the drugs trade, saying the illicit businesses had helped fund Pyongyang's nuclear weapons programs.

North Korea said the U.S. position was an attempt to overthrow its rulers and Pyongyang threatened to boycott the six-party talks because of Washington's stance.

Chung said "the issue of the financial measures should not be linked to the six-party talks."

Chung was in Washington earlier this month to discuss his recent meeting with North Korean officials and to receive U.S. briefings on suspected illegal activity by North Korea.

Washington is seeking to win converts in Seoul while assuring South Korea that the financial crackdown is best left to treasury and law enforcement officials and should not be a part of the talks on ending Pyongyang's pursuit of nuclear weapons.

"When South Korea asks to see more evidence, it is trying to say it's concerned about losing momentum in the six-party talks," said Kim Sung-han, an expert on North Korea-U.S. relations at the Institute of Foreign Affairs and National Security in Seoul.