Hebei court hears deadly land dispute case
(Xinhua)
Updated: 2005-12-16 21:16
An open hearing was held on Thursday at the Intermediate People's Court of Handan City, north China's Hebei Province, over a case in which 27 people were prosecuted for intentional injuries in a clash over land in Dingzhou City, also in Hebei, in June this year.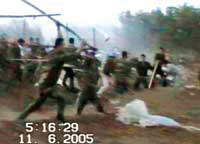 A video grab, taken by a villager, shows the clash scene early in the morning on June 11, 2005.

Being prosecuted include He Feng, former secretary of the Dingzhou City Committee of the Communist Party of China (CPC), and Tang Chunsheng, Zhen Yuehui, Zhao Wei, Zhang Li, sources from the court said.

More than 200 people attended the court hearing, including victims in the land clash incident, and relatives of those being prosecuted.

It is unknown when the final ruling will be out.

At dawn on June 11, over 200 people armed with hunting rifles, clubs and sharpened pipes beset and attacked villagers at the lime construction site of Guohua Dingzhou Power Plant nearby Shengyou Village, which falls under jurisdiction of Dingzhou City, Hebei Province.

Two villagers were killed on the spot, other four were dead in hospital, and dozens of others were injured.

Further investigation showed that the incident was plotted by the contractor Zhang and her husband. Some villagers were discontented about the compensation for land requisition, and moved to the construction site, trying to stop the construction. The dispute between the contractor and villagers had remained since then.