Ma returns to coach women's team; Sun Wen back
(www.chinadaily.com.cn)
Updated: 2005-12-16 09:44
BEIJING, December 15 -- Ma Liangxing was named on Thursday to take the helm of the Chinese women's team, becoming the sixth coach in past five years at the hot seat .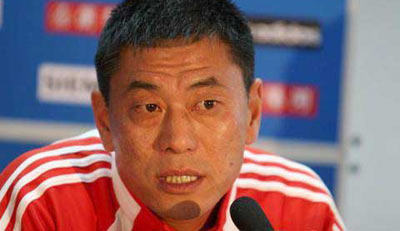 Ma Liangxing is to act his "Mission Impossible"


A hard misssion to restore China's past glories in Beijing Olympics 2008 left little time for Ma, who was sacked following China's flop at the World Cup 2003.

"I have less than two years. This is my time. I won't forgive myself if I ask for four of five years." Ma told reporters.

A surprising news Ma annouced at the press is the return of former World Cup top scorer Sun Wen, a leading "iron roses" who retired in 2003.

"I've spent a lot of time in talking about this with Sun." Ma said, "We must reshape the women's soccer team, so I need to call up best players from around the country."

Early reports indicated Sun would take a post in the team as assistant coach instead of playing on pitch herself.

Sun was emotional about her return, saying she missed the team which brought her to the top of world and she would "devote all the strength" to help the team pull through.

China, runners-up of Olympics 1996 and World Cup 1999, was considered one of world's best in women's soccer. But since the retirement of the "iron roses", used by domestic media to discribe the players, China never found its way back.

Ma, who took over the national team for the first time in 2001, was sacked after China missed the title in 2002 Asian Games and failed to reach the semifinals of the World Cup in 2003.