Trucks bottled up in three-day traffic jam
By Fu Jing (China Daily)
Updated: 2005-12-16 06:04
A world-record marathon runner could cover 30 kilometres in less than 2 hours but for many heavy trucks stuck in a massive Beijing suburb traffic jam, going the same distance this week turned into a three-day ordeal.
Moving at a snail-like pace, the trucks lined up from Beijing's suburban county of Yanqing to Huailai County of Hebei Province along the National Highway 110.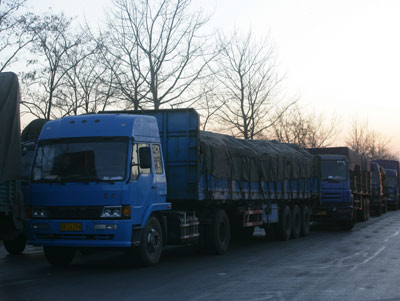 A long line of trucks from Huailai County in Hebei Province queue near Zhangshanying Check Station outside Beijing. [China Daily]
Wearily leaning against seats of the cab and leaving the engine running from to time to time to keep warm in the freezing weather, drivers and passengers have been queued in order from Shacheng township of Huailai and Zhangshanying Village of Yanqing.
They are waiting to weigh in and find out if their trucks were overloaded.
Prompted by a Monday ban on heavy-load trucks using Beijing's Badaling Expressway, trucks carrying weights of more than 2 tons and using the expressway were required to change their routes to the highway. Police have also strengthened safety check efforts to curb them from transporting dangerous chemicals.
But due to slow check procedures, complaints piled up along with the traffic.
"Why doesn't the police and traffic authorities in Beijing add more check points?" asked Zhou Sanyun, a self-employed coal dealer in Tianjian.
Zhou, 25, said the coal deal is his first business. His trip from Jinghai County of Tianjin to Erdos City of the Inner Mongolia Autonomous Region has lasted nearly 12 hours.
"I've been here since Wednesday night and don't know when the jam is going to end," said Zhou, adding that a small traffic accident occurred shortly after leaving Erdos, where he purchased coal, and nearly a half day was wasted waiting for it to clear.
However, Zhou said the trip has made him think about credibility in dealing business.
"My trucks have been overloaded and I should be fined and the extra coal should be downloaded at the check points," said Zhou, whose trucks have a transportation capacity of 35 tons each but disclosed the real load is often 50 tons.