Experts begin testing cross-border river
By Li Fangchao (China Daily)
Updated: 2005-12-16 06:04
HARBIN: The toxic slick that has plagued the Songhua River since November 13 was expected to enter overnight the Heilong River, the border river between China and Russia, according to sources from Heilongjiang Province Environment Protection Bureau.
Experts from both countries have formally begun testing water on both sides of the river.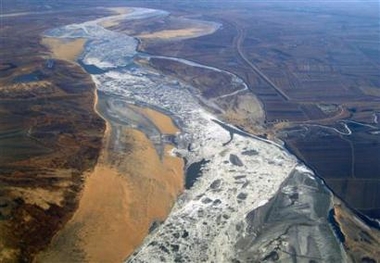 A stretch of potentially lethal polluted river water heads towards one of China's biggest cities in this November 24, 2005 photo. The toxic spill was caused by an explosion at a petrochemical plant in Jilin Province early in November. [newsphoto]
China and Russia signed a agreement to co-operate in examining the water of the Heilong River (called Amur in Russia), as the borderline lies in the middle of the river.
Altogether six water checking places are expected to be set along the river, according to the bureau.
Yesterday, experts from both countries conducted three water tests at a checking place near Nizhneleninskoye, a port city in Russia's Jewish Autonomous Region.
Experts drilled ice holes on both sides of the river and checked the results separately. No poisonous chemicals were found, but the bureau estimated the front of the contaminated water had yet to arrive.
Experts from both countries have agreed to increase the checking times to eight times a day from today.
The toxic slick was caused by a chemical plant blast on November 13 in Jilin City, Jilin Province, in the upper reaches of the Songhua, which led to the spillage of some 100 tons of benzene and other chemicals into the river.
It has disrupted the normal life of millions of residents living along the river.
The concentration of the toxic chemicals in the slick has declined sharply since the spill, and is expected to be further diluted when it flows into the Heilong River, Zhou Shengxian, director of the State Environment Protection Administrationsaid earlier this week.
Russian President Vladimir Putin noted China's efforts in curbing the toxic slick and said the incident "should not harm bilateral relations" after discussing it with Premier Wen Jiabao on the sidelines of the first Russia-ASEAN summit on Monday.
(China Daily 12/16/2005 page2)