Boys become men after family hardships
(China Daily)
Updated: 2005-12-15 06:10
Growing up is not easy for most people but for Hong Zhanhui it has been even tougher.
With his father suffering from a mental disorder, his mother walking out and an adopted baby sister to look after, Hong has shouldered all the burdens on his own for the past 11 years.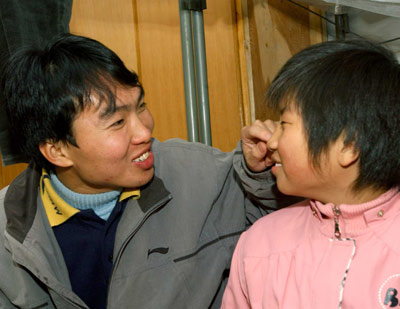 Hong Zhanhui plays with his younger sister Hong Chenchen. Chenchen is an abandoned girl and was adopted by Hong's family when she was little. [Xinhua]
But, even after initial attempts to go to school were hampered by his commitments, Hong is finally setting out on a career path.
And the plucky 23-year-old, from Central China's Henan Province, has been determined to do it his own way, refusing financial help and support.
The rural family in Hongzhuang Village in Henan fell into chaos in the summer of 1994 when Hong's father was struck with a mental illness.
He would often disappear without warning. After one morning searching, Hong, then aged 12, found his father sitting under a tree far away from the village, holding a abandoned baby girl in his arms.
The family, despite having two sons already, decided to foster this girl, who they named as Hong Chenchen.
Shortly afterwards, however, Hong's mother left the family because of the beatings she suffered from her husband.
Hong's younger brother later also left home, leaving the family's future in his hands.
In 1998, he passed the entrance examination of the Xihua No 1 Senior High School, about 20 kilometres away from the village.
He rented a room nearby, and took his little sister along with him so she could receive better care.
Hong's studies, though, had to jostle for room alongside his other commitments.
He also had to split his time and energy into working to raise money, looking after Chenchen, then aged 4, and sending medicine home to his father.
A year later, Hong quit the school to help his father, whose mental condition deteriorated again and had to stay in hospital. He was able to return a year later when the condition of his father improved.