ASEAN Summit in Kuala Lumpur
(Reuters)
Updated: 2005-12-15 07:33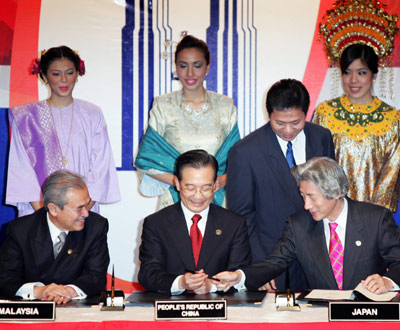 Japanese Prime Minister Junichiro Koizumi (R) returns the pen to Chinese Premier Wen Jiabao during the signing of the declaration on the East Asia Summit during the 11th ASEAN Summit in Kuala Lumpur December 14, 2005.
According to an Associated Press report, as the leaders were signing the document, Koizumi leaned over and asked to borrow Wen's pen. But Wen ignored him for several seconds until Malaysian Prime Minister Abdullah Ahmad Badawi intervened to repeat the request. Wen then passed the pen to Koizumi with a smile.
Wen Monday called Koizumi the main cause of a rift in China-Japan ties, accusing the Japanese leader won't own up to his country's history of violence in Asia. Koizumi has made five visits, as a prime minister, to Yasukuni Shrine that honors 14 Class war criminals in World War II, angering China, South Korean and other Asian countries and regions. [Reuters]