China confident of containing bird flu
(AFP)
Updated: 2005-12-14 19:37
China is completely confident of being able to contain the bird flu epidemic after recording 15 consecutive days without a new outbreak, the nation's chief veterinary officer said.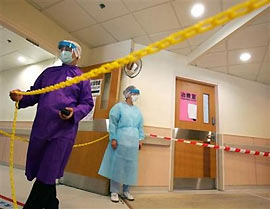 Nurses cordon a corridor inside a hospital as part of a drill on the outbreak of bird flu in Hong Kong November 8, 2005. [Reuters]

"In the face of a very complicated epidemic situation, we are fully capable of effectively containing the spread of bird flu in China," Jia Youling told a briefing in Beijing on Wednesday. "We have full confidence and strong determination."

Giving the latest update on the bird flu situation in China, Jia told reporters there had been 30 outbreaks across 11 mainland provinces and regions this year.

Twenty-six of those cases had occurred across nine provinces or regions since October.

The outbreaks directly killed 151,200 birds and led to the culling of another 22,225,800, Jia said.

He said that, as of Tuesday, there had been no reported outbreaks for 15 days in a row and quarantines in 23 affected areas had been lifted, giving some cause for optimism.

However he warned there could be more outbreaks, especially during the Chinese New Year or Spring Festival period starting in late January.

"There is still the possibility of sporadic outbreaks in winter this year or spring next year and we are still facing great challenges of bird flu control," he said.

"During Spring Festival there will be greater consumption of domestic birds and more frequent long-haul travel so there might be a possibility of new outbreaks."

Jia said that, as part of the control measures, 6.85 billion domestic birds had been vaccinated this year -- more than 5 billion of them since the start of October.