Nations at odds as WTO meeting opens in HK
(AP)
Updated: 2005-12-13 14:11
Rich and poor nations were at odds as a World Trade Organization meeting opened in Hong Kong on Tuesday, with trade ministers saying a breakthrough is unlikely on the thorny issue of agricultural trade that has held up negotiations for months.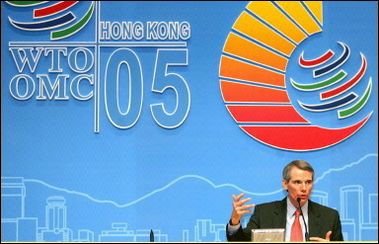 US trade representative Rob Portman speaks to the press ahead of the World Trade Organisation (WTO) Ministerial Conference in Hong Kong, December 12, 2005. Trade ministers have gathered in Hong Kong to work on a deal to open markets and boost the global economy, with the European Union quickly under fire for its refusal to cut farm subsidies further.[AFP]


At least 1,000 protesters - mostly South Korean farmers wearing red bandanas - gathered at a downtown park to chant slogans against the WTO, driven by fears that opening up their agricultural markets would destroy their livelihoods.

Police have blocked off access to roads near the conference site, set up barricades and even glued bricks onto the sidewalks in the hopes of preventing violence that has flared at previous WTO summits.

The six-day meeting was meant to lay the groundwork for a global treaty by the end of 2006 that would cut trade barriers across a wide array of sectors, from agriculture to services, wrapping up the so-called Doha round of talks.

But an impasse over farm trade has brought the negotiations to a virtual halt, with developing nations accusing the U.S., EU and other rich economies of not cutting agricultural tariffs and farm subsidies enough, keeping out exports from poorer nations that depend heavily on agriculture as an income source.

India's trade minister, who has emerged as a key figure in the talks, said that while it would be hard for 149 WTO members to reach an agreement on farm trade, he didn't foresee an outright collapse like the previous ministerial gathering in Cancun, Mexico, two years ago, which fell apart amid acrimony. Differences over agriculture was the culprit there, too.

"I don't see a repeat of Cancun," Indian Commerce Minister Kamal Nath told the Associated Press. "Cancun was an outburst of a lack of hope. Now countries are hoping."

Still, Nath insisted that "developing countries do not want to see the perpetuation of inequities in global trade."

He urged members to stay engaged in the negotiations, and predicted that all parties would strive to make some progress at the December 13-18 gathering.

"The next six days are going to see efforts by everybody to move forward," Nath said. "But efforts do not necessarily mean there will be results, because the issues are very, very contentious."

EU Trade Commissioner Peter Mandelson has said that the European Union won't change its offer of an average 46 percent cut in farm tariffs unless he sees some movement from developing nations on offering to reduce their trade barriers on manufactured goods and services.