Singh: India, China not rivals
(Xinhua)
Updated: 2005-12-12 07:23
Setting at rest the misconception that India and China are emerging as rivals in the economic and political area, Indian Prime Minister Manmohan Singh on Sunday said the bilateral relationship is progressing in the right direction.
"There is a misconception that India and China are competitors and this is not true," Singh told journalists accompanying him on the four-day visit to Kuala Lumpur.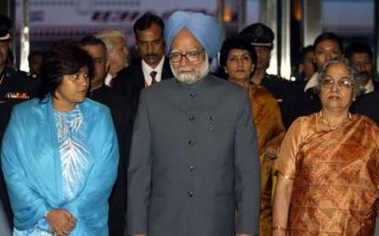 India's Prime Minister Manmohan Singh (C) arrives with his wife Gursharan Kaur (R), accompanied by Malaysian Minister for Youth and Sports Azalina Othman (L), ahead of the 11th ASEAN Summit, at the Kuala Lumpur International Airport in Kuala Lumpur December 11, 2005. [Reuters]
"India's relations with China is emerging including on border issue on the basis of agreed principles. Our relationship is emerging in the right direction. We are making progress on trade as well as border," Press Truss of India quoted Singh as saying.
He made it clear there was no rivalry between India and China and the two were partners in pushing up growth and prosperity in the region.
Singh expressed the hope that the first East Asia summit would articulate a collective long-term vision for shaping the regional economy.
"The first East Asia Summit would be a historic event. It would be the first ever gathering of leaders of countries that have made the region an engine of growth for the entire world economy," Indo-Asian News Service quoted the prime minister as saying.
It is the beginning of a process that brings together countries with increasing inter-linkages and growing inter-dependence, Singh said.