Iraq closing borders ahead of voting
(AP)
Updated: 2005-12-12 06:32
Voting begins Monday in hospitals, military camps and even prisons across Iraq, launching the process to choose a new parliament that the United States hopes can help quell the insurgency so U.S. forces can begin heading home.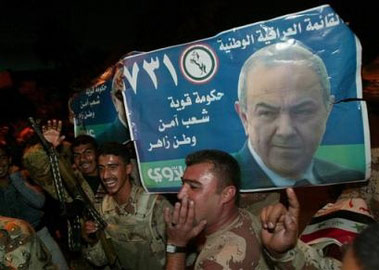 Iraqi soldiers hold election campaign posters for the Iraqi National list carrying pictures of the head of the list, Shiite secular leader and former Prime Minister Ayad Allawi while receiving released prisoners in Baghdad, Iraq Sunday, Dec. 11, 2005. [AP]
Iraq's government announced it will close its borders, extend the nighttime curfew and restrict domestic travel starting Tuesday ! two days before the main election day ! to prevent insurgents from disrupting the vote.
"We are very prepared for the elections, and we are highly determined," Interior Minister Bayan Jabr said. "We hope that everyone participates and that it will be a safe day. ... We are at a historic juncture."
Voters will be choosing their first fully constitutional parliament since the 2003 collapse of Saddam Hussein. The 275-member assembly, which will serve for four years, will then choose a new government that U.S. officials hope can win the confidence of the disaffected Sunni Arab minority ! the foundation of the insurgency.
Although most of the 15 million eligible voters will cast ballots Thursday, soldiers, police, hospital patients and prisoners not yet convicted of crimes can vote Monday starting at 9 a.m..
Officials said Saddam ! who is jailed and facing trial for the deaths of more than 140 Shiites in 1982 ! has the right to vote but it was not known whether he would.
Suspected insurgents held in U.S. or Iraqi detention but who have not been convicted of an offense would also be eligible, Iraqi officials said.
On Tuesday, the estimated 1.5 million Iraqi voters living outside the country can begin casting their ballots over a two-day period at polling centers in 15 countries, including the United States, Canada and Australia.
Voters must produce a passport, certificate of citizenship or military service papers and dip an index finger in indelible purple ink to prevent them from voting more than once.
With security so tenuous, campaigns have been waged primarly through media advertisements, colorful banners and placards on the streets, and press conferences before audiences packed with supporters.
Most attention has focused on Sunni Arabs, who largely boycotted the Jan. 30 election to protest the continued U.S. military presence.
With most Sunni Arabs staying home, Shiites and Kurds won more than 220 of the 275 parliamentary seats ! a move that sharpened communal tensions and fueled the Sunni-dominated insurgency.