China denounces US criticism of human rights
(Xinhua)
Updated: 2005-12-12 06:26
China strongly opposes to the assault of the US government on the pretext of human rights issue, Foreign Ministry spokesman Qin Gang said Sunday.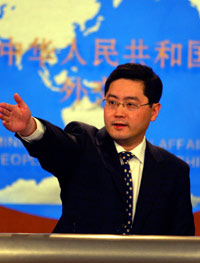 Qin Gang invites questions at a press conferce in Beijing. [newsphoto/file]

Qin made the remarks in response to the US State Department spokesman's statement on Saturday's International Human Rights Day, in which the US side criticized China's human rights situation.

Qin said China has scored remarkable achievements in the field of human rights protection. The Chinese people fully enjoy human rights and freedom according to law.

"The Chinese government and people expressed their strong opposition and firmly opposed to the US government's practice in the name of the so-called human rights issue that wantonly assaulted China," said the spokesman.

The United States itself has severe problems of violating human rights, and it is being strictly criticized by the international society as it refused the investigation of a special rapporteur of the UN Human Rights Commission, said Qin.

"However, the US government still intentionally depicted itself as a human rights guard, often criticizing other countries' human rights 'problems' with the attempt to shift others' attention," Qin said.

"While these political tricks have already been penetrated by the public and what the US side has done is just the opposite to what it wishes," he added.

"As the year is drawing to an end, we suggest the US side should take a clear consideration of the situation and make self-reflection on its own human rights problems, "said the spokesman.

The US government is well advised to give up its double standard on human rights and readjust the mistaken practices of interfere in the internal affairs of other countries on the pretext of human rights issue, Qin said.

UN High Commissioner for Human Rights Louise Arbour implicitly criticized the United States on Wednesday for violating the global ban on torture, saying the absolute ban on torture is becoming a casualty of the so-called "war on terror" through loosened legal definition, secret detention, hand-over of prisoners without adequate safeguards and other practices.