Koizumi shrine visit blasted as leaders meet
(AFP/Kyodo)
Updated: 2005-12-11 09:23
KUALA LUMPUR - China and South Korea are putting more pressure on Japan as they once again criticised Japanese Prime Minister Junichiro Koizumi's non-stop war shrine visits on the eve of an annual summit of Asian leaders.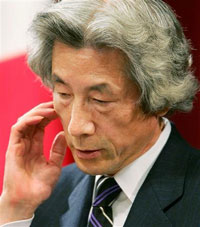 Japanese Prime Minister Junichiro Koizumi scratches his face as he talks to reporters at the premier's official residence in Tokyo December 8, 2005. [Reuters]

The leaders are expected to address issues ranging from free trade to bird flu at the summit on Monday and Tuesday. China is vigorously pushing for a free-trade agreement with 10 ASEAN countries.

Chinese Foreign Minister Li Zhaoxing lashed out at Koizumi's controversial visits to a Tokyo war shrine. "The current difficulties between China and Japan are the sole responsibility of a key Japanese leader and his own wrongdoings," Li said on the sidelines of the Association of Southeast Asian Nations (ASEAN) gathering.

China has cancelled the customary three-way meeting with the leaders of Japan and South Korea at the ASEAN summit and pulled out of a scheduled meeting of their foreign ministers.

Koizumi's visits to the Yasukuni shrine, which memorializes top war criminals among the war dead, have strained ties with nations that Japan invaded in the 20th century and which see it as a symbol of militarism.

"Regretfully, the Japanese prime minister... over and over again, has been paying respects to the war criminals who initiated the invasions," Li said. "This mistake is unacceptable."

Seoul has also harshly criticized the visits, but South Korean Foreign Minister Ban Ki Moon met his Japanese counterpart Taro Aso here on Saturday as ASEAN diplomacy moved into high gear. "It is unfortunate we were not able to hold the Japan-China-South Korea talks," Ban told Aso.

"I want you to understand that I am put in a difficult position as the man responsible for our diplomacy, because of comments from the Japanese leadership," Ban said.

ASEAN groups Brunei, Cambodia, Indonesia, Laos, Malaysia, Myanmar, the Philippines, Singapore, Thailand and Vietnam, while the so-called "plus-three" format brings in China, Japan and South Korea.

The ASEAN summit and plus-three gathering Monday and Tuesday will be followed by the first-ever East Asia Summit, which also includes Australia, India and New Zealand to form a new 16-nation bloc. Russia has been invited as a guest.

Discussions are expected to try to tackle a wide range of issues from pollution haze to the threat of bird flu, as well as hopes of creating an eventual free-trade zone that would cover half the world's population.