Tigers demand urgent talks to defuse Sri Lanka war fears
(AFP)
Updated: 2005-12-10 15:45
Tamil Tiger rebels have asked Norway to arrange urgent peace talks with Colombo to prevent Sri Lanka from sliding back into war after 31 people died in a week of violence.
A report on the website of the rebel Liberation Tigers of Tamil Eelam (LTTE) says they have told Norway's top envoy in Colombo, Hans Brattskar, immediate negotiations should begin to maintain a tenuous truce in place since February 2002.
"Our commitment to the ceasefire and the peace process remains undiluted and what we request now is to urgently arrange a high-level meeting between the parties...," said the LTTE's political wing leader S. P. Thamilselvan.
In a report on their official website, the LTTE said only face-to-face negotiations could "bring about normalcy and avoid confrontational postures between the civilians and the occupying military."
There was no immediate comment from the government or the Norwegians.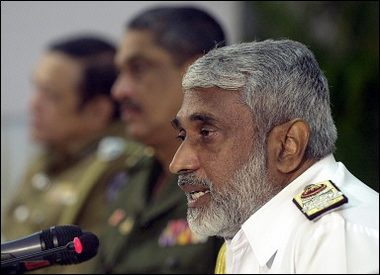 Sri Lanka's top military commander, Admiral Daya Sandagiri (R).[AFP/file]

The LTTE leader flatly rejected a call by new President Mahinda Rajapakse to revise the ceasefire and dismissed Rajapakse's election pledge to abandon plans to turn the country into a federal state in exchange for ethnic peace.

The government of Rajapakse -- who had earlier promised to overhaul the peace bid and review the role of the Norwegians -- on Wednesday did a U-turn and asked Oslo to stay on.

"It is true that Mr. Mahinda Rajapakse went to town with rigid stances relating to the 'unitary state' and the necessity to review the ceasefire," said Thamilselvan.

"But the ground realities and hard facts dictate there is no need to review the ceasefire for it is comprehensive and all-encompassing and what is needed is implementation of what has been agreed upon between the parties," he said.

He said the "rigid stance" of sticking to a unitary state may have been an election campaign ploy, but it was not helpful to resolving the decades-old ethnic conflict between the majority Sinhalese and minority Tamil communities.

Rajapakse was elected president last month.

The Tigers agreed in December 2002 to settle for a federal state rather than full independence, but direct talks between the guerrillas and Colombo have been stalemated since April 2003.

Diplomatic efforts to revive the process also remain deadlocked.

Following a surge in violence in the embattled northern and eastern regions that began last week, the military declared Friday it was ready to meet "any terrorist challenge."

The chief of defence staff, Daya Sandagiri, however, said it did not expect the country to slip back into full-scale war.

Rajapakse asked Norwegian envoy Brattskar to keep up peacebrokering efforts even though two key allies of his government had insisted Norway be expelled from the peace process, accusing it of favouring the rebels.

Norway has said the two parties must agree to certain unspecified conditions before it resumes the role of peace facilitator in a country where more than 60,000 people have died in ethnic violence since 1972.