Appeals on death penalty in open court
By Ling Hu (China Daily)
Updated: 2005-12-09 06:03
All death-sentence appeals will be heard in open court from next year, the Supreme People's Court has announced a move experts say would raise transparency and deliver full justice in cases involving capital punishment.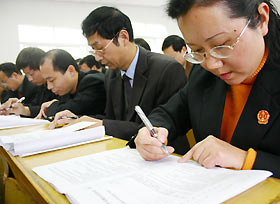 Judges in East China's Anhui Provinces receive profession tests on November 12, 2005. [newsphoto]

In a notice issued to provincial-level high courts on Wednesday, the nation's top judicial organ ordered them to have open sessions for hearing defendants' appeals in death-penalty cases concerning "major factual or evidential controversies" from January 1. All death penalty appeals must be heard in open session from July 1, 2006.

"Open sessions are important procedural guarantees for ensuring justice," Xinhua News Agency quoted an unidentified senior Supreme Court official as saying.

The Criminal Procedure Law requires courts to hear in open session all appeals moved by the prosecutors in death-penalty cases. As to appeals by the defendants, however, the law says the court should, "in principle," hold an open session but documentary review would suffice if the facts in a case are clear.

"When it comes to reality, documentary reviews have become the preferred option of some high courts and open sessions an exception and that defeats the purpose of the law," said Chen Weidong, a law professor at Renmin University of China.

The media has exposed several instances of miscarriage of justice in recent years, which has led to criticism of the courts' lack of caution in pronouncing the ultimate punishment.

Xinhua quoted the Supreme Court source as saying it has to take a pragmatic approach in ordering open trials in appeals, which is why provincial courts have up to July 1 for following the procedure.

A collegial bench of three to five judges, one or two clerks and several sergeants-at-arms are required by law in hearing second instances of death-penalty cases.

The second trial should be held at the venue of the first, or where the alleged crime was committed; and prosecutors, defendants, defence lawyers and key witnesses have to be present.