Dam planned to contain river pollution
By Li Fangchao (China Daily)
Updated: 2005-12-08 05:41
HARBIN: China is considering a proposal raised by Russia to build a temporary dam at the confluence of its Heilong and Wusuli rivers to prevent the water source of a neighbouring Russian city being contaminated, a local water resources official said yesterday.
Khabarovsk, a major city in the Russian Far East, relies heavily on Wusuli River, on the border, for civilian and industrial use.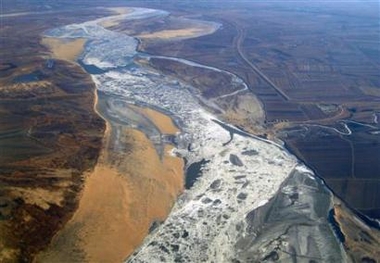 A stretch of potentially lethal polluted river water headed towards one of China's biggest cities on Thursday after an explosion at a petrochemical plant, November 24 2005. [newsphoto]

The toxic spill in Songhua River, a tributary of Heilong River, was caused by a chemical plant explosion on November 13. About 100 tons of benzene, a carcinogenic chemical, spilled into the river.

Building of the dam will start on the Fuyuan waterway, which joins Heilong and Wusuli rivers, to block the flow of the polluted water, said sources at the provincial water resources department.

On Tuesday, the Ministry of Water Resources sent an expert panel to Jiamusi to study the possibility of building the dam.

According to the initial investigation, there are two factors in favour of the project.

"The water at the Fuyuan waterway is 0.91 metre at its deepest and 0.3-0.4 metre deep on average. In addition, the current velocity of water there is almost zero," said an expert.