China vows to curb AIDS spread
(AP/China Daily)
Updated: 2005-12-01 10:00
China must keep its number of HIV-infected people under 1.5 million in the next five years or risk social instability and a possible economic downturn, the country's top health official said Wednesday.
AIDS prevention and control are key to China's "economic development, social stability and prosperity," Health Minister Gao Qiang said at a news conference ahead of World AIDS Day on Thursday. "A good job in AIDS prevention and treatment is a must for the government at all levels."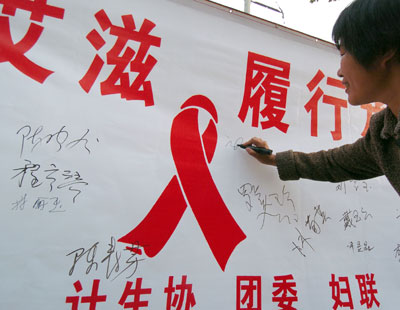 A resident signs on a banner to promote the prevention of HIV/AIDS in Fuzhou, East China's Fujian Province November 30, 2005. [Xinhua]

The government has earmarked $100 million for AIDS prevention and treatment this year ¡ª eight times more than in 2002 ¡ª with the money to be used for treatment, education and testing, Gao said.

"The Chinese government can effectively control the momentum of the spread of AIDS in the country," he said. "We need to increase funding, enhance surveillance, increase the spread of information and education on the disease."

China says it has 840,000 people infected with HIV and 80,000 with full-blown AIDS. But the United Nations' AIDS agency says that the true figure is likely higher, and that up to 10 million could be infected by 2010 without more aggressive prevention.

Gao said HIV transmission through shared intravenous drug needles and unprotected sex has "risen rapidly in recent years." He did not give more details.

However, the incidence of infection by blood transfusion has fallen sharply due to repeated campaigns since the 1990s, Gao said.

HIV gained an early foothold in China, largely due to unsanitary blood plasma-buying schemes and tainted transfusions in hospitals.

AIDS activists have criticized China's government for being slow to admit the extent of the disease there.

Earlier this year, the government opted to promote anti-HIV strategies that the government had previously considered taboo, such as free condoms and needle exchanges.

Another new program, set to be launched Thursday to mark World AIDS Day, targets China's growing population of migrant workers. Most of the tens of millions who have left the countryside to seek work in cities have no regular access to health care.

In recent years, Beijing has become increasingly open about AIDS and has offered free testing and counseling, as well as free treatment for the poor.