Mine death toll could rise to 171
By Fu Jing (China Daily)
Updated: 2005-12-01 05:59
QITAIHE, Heilongjiang Province: The number of miners working underground on Sunday night when an explosion ripped through a coal mine in this Northeast China city was put at 241 yesterday, up from the 221 previously announced.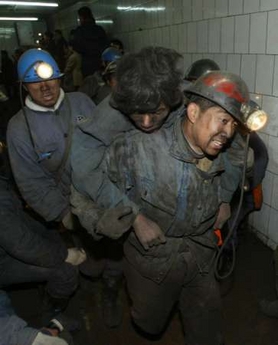 A rescuer carries a miner trapped in a coal mine blast in Qitaihe, in northeast China's Heilongjiang province, November 28, 2005. [Reuters]
That means the death toll in the Dongfeng Coal Mine blast could rise to 171 instead of an earlier estimate of 151.
Two mine officials have been detained by police for alleged dereliction of duty Ma Jinguang and Chen Zhiqiang, head and Party secretary, respectively, of the State-owned coal mine.
Ironically, Ma was declared a role model in mine management just 10 days before the accident.
The rescue headquarters gave the latest figures at a press conference, saying they were the result of "thorough checks" after police got involved in the investigation.
Till last night, 159 miners were confirmed dead in the colliery while two women workers working in an above-ground generator room were also killed in the coal-dust explosion.
Ten miners are missing and hopes of their survival are fading, said officials.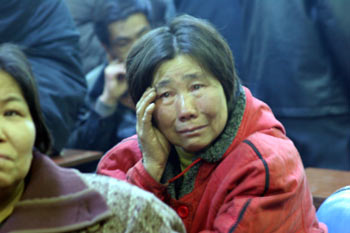 Relatives of the trapped miners wait in tears outside the mine after a blast accident occured at Dongfeng Coal Mine in northeast China's Heilongjiang province November 28, 2005. [newsphoto]
"The information announced tonight resulted from intensive investigation by the police," said Zhang Chengxiang, director of the Heilongjiang Provincial Bureau of Work Safety.
He said the mine has "serious problems" in its management.
The blast occurred at 9:40 pm on Sunday at Dongfeng Coal Mine run by the Qitaihe branch of the Longmei Mining (Group) Co Ltd in Heilongjiang Province. Seventy-two miners were rescued.
(China Daily 12/01/2005 page1)