Chinese leaders push economic rebalancing
(Reuters/AFP)
Updated: 2005-11-30 07:27
The need to cut China's huge balance of payments surplus to fend off U.S. pressure for a stronger yuan is probably high on the agenda of a key meeting of Chinese leaders that began on Tuesday, economists and government sources said.
President Hu Jintao and Premier Wen Jiabao are expected to attend the annual Central Economic Work Conference, which will set the course of policy for 2006. The closed-door meeting usually lasts 3 days.
"The currency has to be on the agenda and there's bound to be a greater emphasis on resolving the balance of payments problem," said a senior economist at the State Information Center, a top government think-tank in Beijing.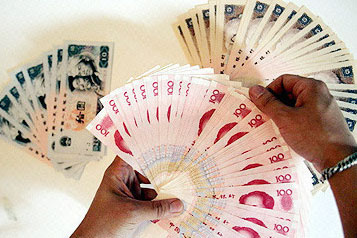 A man lays out various denominations of the Chinese yuan, in Beijing. [AFP]
The meeting opened a day after the U.S. Treasury declined to name China a currency manipulator, despite the demands of many U.S. law-makers, but served notice that it would keep pressing Beijing to let its currency rise in value.
The yuan did in fact rise on Tuesday to 8.0796 to the dollar, the highest level since it was revalued on July 21 by 2.1 percent to 8.11 and allowed to float within a managed range.
But the yuan's total appreciation against the dollar since July is still only 0.38 percent, prompting criticism in the U.S. Congress that the currency is being artificially held down given China's billowing external surpluses.