China reports two new bird flu outbreaks
(Reuters)
Updated: 2005-11-30 07:27
China has confirmed two new outbreaks of the deadly H5N1 strain of bird flu in poultry as the virus continues to take its toll on Asia, heightening concern among health experts searching for ways to contain it.
China has culled more than 20 million birds this year and has reported 24 outbreaks of avian influenza since mid-October in nine regions and provinces from the far southwest to the frigid northeast.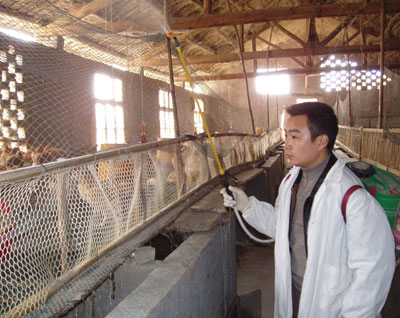 A health worker sprays disinfectant at a poultry farm in Southwest China's Chongqing Municipality, November 27, 2005. [newsphoto]
The latest cases were diagnosed in the northwestern region of Xinjiang and in central Hunan province.
The Ministry of Agriculture said 288 poultry died on November 22 in Shanshan County in Xinjiang. By Monday night, veterinary authorities in Xinjiang had culled 52,162 poultry within 3 kilometres from the affected areas.
The lab also confirmed another bird flu outbreak on November 18 that killed 390 chickens and 12 ducks in Laobutou Village of Yongzhou, Hunan.
The Ministry of Agriculture has sent experts to the affected areas to oversee their quarantine work and disease control efforts.
In Shanghai, apart from the live chicken, which is available in some 464 designated markets, the city is halting the sales of all other birds starting today.
According to the bureau, they closed the trade because many birds available in the market came from the wild, which could be a source of infection.
The Nanhui District Wild Life Protection and Management Station revealed that they had confiscated more than 100 bird nets and 500 wild ducks in the latest raid in nearby beaches.
The deadly H5N1 strain is known to have infected 133 people in Asia since late 2003, killing 68.