Russia set to get help on slick
(China Daily/AP)
Updated: 2005-11-30 05:58
HARBIN: China will send equipment by Friday to test water for benzene to Russian authorities as the contaminated slick in the Songhua River approaches the international border, Chinese officials said yesterday.
The heavily polluted stretch of water is approaching the Heilong River (called the Amur in Russia), a border river of the two countries, at a speed of 2 kilometres per hour. It is expected to reach the Russian city of Khabarovsk in 13 days.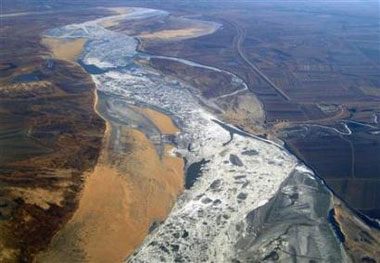 A stretch of potentially lethal polluted river water headed towards Harbin after an explosion at a petrochemical plant, November 24 2005. [newsphoto]
A seven-person Russian delegation from the Khabarovsk Environmental Protection Bureau met yesterday with directors of Heilongjiang Environmental Protection Bureau, the Harbin Water Supply Company and the Harbin Heat Supply Company in the capital of Northeast China's Heilongjiang Province.
Li Ping, a spokesman with the provincial environmental protection bureau who announced the agreement, also said the bureau would send experienced personnel to help install the equipment and train Russian personnel.
Victor Bardyuk, head of the delegation, said he was satisfied with the arrangement.
The delegation has been updated twice a day with the situation of the slick. Benzene is a toxic substance that can affect blood and bone marrow cells.
In Beijing, Foreign Ministry spokesman Liu Jianchao said China started to provide details of the river pollution to the Russian Embassy on November 22 and regular reports on water quality since last Thursday. He added that China cares about the interest and concern of the Russian people.
Foreign Minister Li Zhaoxing, at a meeting with Russian Ambassador Sergei Razov on Saturday, expressed regret over the possible harm that could be done.
A blast at a chemical plant on November 13 in Jilin city of Jilin Province on the upper reaches of the Songhua River tainted the water.
The 80-kilometre slick arrived in Harbin on November 24. It forced a four-day shutdown of the city's water service until Sunday.
At 4 pm yesterday, the front edge of the contamination was still in Tonghe County, a suburb county of Harbin.
Li said that Heilongjiang Province has now set up checkpoints at five locations along the river at Mulan, Dalianhe, Jiamusi, Fujin and Tongjiang.
Khabarovsk, with a population of 600,000, will be the first Russian city affected, as will three other cities farther downstream.