Malaysia urged to probe abuse cases
By Qin Jize (China Daily)
Updated: 2005-11-30 05:58
China urged Malaysia yesterday to investigate and severely punish the troublemakers in several incidents alleging abuse of Chinese women while in police detention.
Foreign Ministry spokesman Liu Jianchao said that his ministry and the Chinese Embassy in Malaysia "have made many representations to local authorities, asking for an immediate probe into the cases and a severe punishment."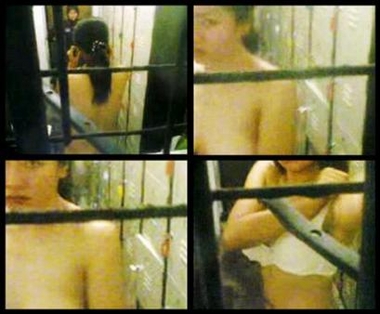 A combination of video grabs from a mobile phone video clip shows a young Chinese woman after she was stripped at a police station in Malaysia. [Reuters]
Malaysian Prime Minister Abdullah Badawi vowed no cover-up on Monday after apologizing for the humiliation of Chinese tourists by police in suburban Kuala Lumpur, the capital.
Wang Chungui, Chinese ambassador to Malaysia, said that "apology alone is not enough."
"Those culprits in the abuse cases must be punished," he was quoted by Beijing Evening News as saying yesterday. He also urged the Malaysian Government to speed up the investigation and make public the results.
Several cases have been reported in which Chinese women were targeted and badly treated. One video clip that surfaced on Friday showed a naked Chinese woman being stripped and mistreated by a uniformed Malaysian policewoman and being forced to do squats in a room with some onlookers. The video has sparked a public outrage.
Malaysian Deputy Prime Minister Najib Tun Razak said the video, if proven to involve the police, is a "slap" on the image and integrity of the police and the country.
He said stern action must be taken against those responsible.
The video clip has been posted on Malaysian websites, and bloggers have compared it to pictures of torture of Iraqi prisoners by American prison guards in the Abu Ghraib prison.
Bar Council Chairman Yeo Yang Poh demanded an independent investigation, saying: "All Malaysians should view the video clip and ask ourselves how we have allowed things to come to this stage." The council represents all Malaysian lawyers.
"China has noted the apology by Malaysia's senior officials, and China will continue to urge the Malaysian side to take effective measures to investigate the incident and stop the repeat of the similar events," Liu said.
He said the two nations enjoy very active communications in various fields, and a safe and sound living environment for each other's citizens is key to expanding mutual co-operation.
(China Daily 11/30/2005 page1)