Coal mine death toll expected to reach 151
By Fu Jing (China Daily)
Updated: 2005-11-30 05:58
QITAIHE, Heilongjiang Province: The final death toll in Sunday's coal mine explosion in this Northeast China city is likely to reach 151 as lax management was blamed.
By press time, the rescue headquarters of the Dongfeng Coal Mine announced that 146 bodies had been found underground and three miners were still missing. Two women workers working in an above-ground generator room were also killed in the blast.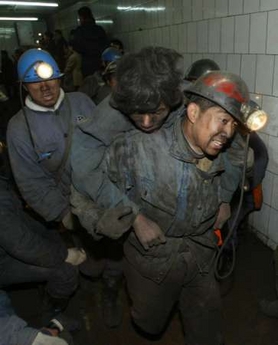 A rescuer carries a miner trapped in a coal mine blast in Qitaihe, in northeast China's Heilongjiang province, November 28, 2005. [Reuters]
"It is very unlikely that the three missing are still alive as we have checked almost every corner underground," said Song Kaicheng, a chief engineer with Heilongjiang Longmei Mining (Group) Co Ltd, which owns the mine.
A preliminary investigation found that the accident was caused by lax management policies regarding coal dust, which is more prone to ignite at a certain density.
Yesterday morning, Jia Jiguo, head of Longmei Mining, admitted that before the blast "there were signs showing high dust density." Experts said the best course of action then would have been to stop production. But production in the mine continued even after a meeting on November 22 to deal with the situation.
In addition, the number of miners working underground when the blast occurred was still confusing.