Malaysia to probe into Chinese woman abuse
(Straits Times/AFP)
Updated: 2005-11-29 11:44
The video clip of a naked Chinese woman doing squats in front of a policewoman in what appears to be a lock-up is being described as Malaysia's own Abu Ghraib prison scandal.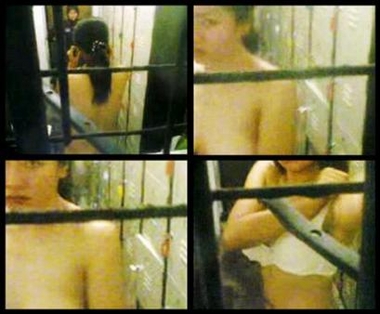 A combination of video grabs from a mobile phone video clip shows a young Chinese woman after she was stripped at a police station in Malaysia. [Reuters]


Pledging a thorough probe into what is being described as a "shameful" incident, Prime Minister Abdullah Badawi yesterday told journalists in Malta where he is attending the Commonwealth leaders summit: "There should be no cover-up at all."

Directing deputy police chief Musa Hassan to conduct a probe, he warned: "I don't want anybody to hide the bare facts obtained from the investigations."

Datuk Musa said: "If investigations reveal our officers or policemen have abused their power, we will take action."

Deputy Prime Minister Najib Tun Razak said the video, if proven to involve the police, is a "slap" on the image and integrity of the police and the country.

Amid public outrage over the issue, he said stern action must be taken against those responsible.

The video clip has been posted on Malaysian websites and bloggers have compared it to pictures of torture of Iraqi prisoners by American prison guards in the Abu Ghraib prison.

Bar Council chairman Yeo Yang Poh yesterday demanded an independent investigation, saying: "All Malaysians should view the video clip and ask ourselves how we have allowed things to come to this stage."

The council represents all Malaysian lawyers.

A key public concern is that the case may not be isolated.

Many reports have been filed in the past about mistreatment of suspects in police custody.

A VCD containing the 70-second clip was dropped at the office of opposition parliamentarian Teresa Kok who showed the clip to several ministers at Parliament House on Thursday.

Although it is not clear if the woman in the video is a Chinese citizen, the issue came to light just days after a complaint by three female Chinese nationals.

The women alleged they were strip-searched by police for holding fake passports although they showed genuine documents. They also claimed that male officers peeped at them while they were bathing during their detention.

The issue comes at a sensitive time for Malaysia as it prepares to host the inaugural East Asian Summit in two weeks. Chinese Premier Wen Jiabao will be attending the gathering.