China cuts off water along poisoned river
(AP)
Updated: 2005-11-29 07:31
China cut off water supplies to more communities along a poisoned river in its northeast Monday as it celebrated the return of running water to the city of Harbin.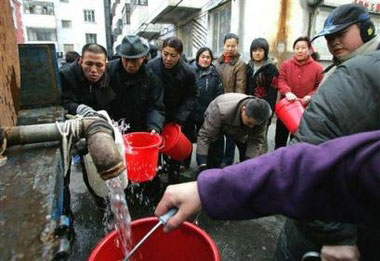 Residents fill water containers from a tanker truck in a street in Harbin, in northeast China's Heilongjiang province Monday Nov. 28, 2005. [AP]
The Songhua River was contaminated by benzene after a factory explosion in the city of Jilin. Beijing has offered no estimates on how many people rely on the river for drinking water.
The Chinese government was forced to shut off running water to 3.8 million residents of Harbin for five days. It restored service Sunday but warned that the water was not safe to drink.
On Monday, 10,000 people downstream in Yilan County were without water service, China Central Television reported.
The Nov. 13 explosion killed five people, forced 10,000 to flee their homes and spewed about 100 tons of benzene into the river. Benzene is an industrial chemical known to pose a leukemia risk at high concentrations.
In Harbin, the taps were on again but officials warned that the water wasn't safe to drink after lying in underground pipes for five days. They said radio and television bulletins would announce when the supply was clean enough first to bathe in and later to drink. The government did not say when that was expected to happen.
"It's back, but I don't know what I can use it for yet," said Guan Hongya, a manager for a textile company in Harbin. "We can use it to flush the toilet, but otherwise it might be no good."
The Songhua River flows into the larger Heilong River, which is called the Amur in Russia.