Crack found in levee after earthquake
(chinadaily.com.cn/China Daily)
Updated: 2005-11-29 06:27
A crack appeared in the levee of the Yangtze River after an earthquake hit Jiujiang, East China's Jiangxi Province, an official said Monday.
The crack was in the Yong'an section of the levee, 30 meters above the bottom, Zheng Keqiang, vice secretary-general of the Jiangxi provincial government told a meeting on the quake relief, the Beijing News newspaper reported Tuesday.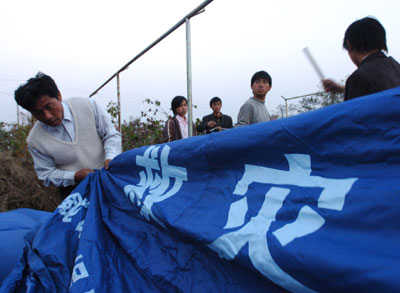 Villagers set up a tent after an earthquake in Jiujiang, East China's Jiangxi Province November 27, 2005. [newsphoto]
The earthquake, measuring 5.7 on the Richter scale, rocked Ruichang and Jiujiang on Saturday morning, killing at least 15 and injuring around 400. Thousands of houses collapsed or were badly damaged.
Tremors were felt in neighbouring Hubei Province, where one was killed and nearly 100 injured; and in Anhui Province, where dozens of homes were damaged.
Tents were the focus of relief efforts in the hardest-hit Ruichang city as hundreds of thousands of wary residents continued to stay in the open.
In the city, more than 420,000 residents had left their homes because of sporadic aftershocks; and most of them were ensconced in tents pitched in open spaces or on wide streets.
Hundreds of patients were being treated in tents because hospital buildings suffered structural damage.
"A lot of patients have been moved from dangerous buildings to makeshift structures in the open square," said Wang Jian, a doctor at Ruichang Hospital of Chinese Medicine.