Coal mine blast leaves 138 dead, 11 missing
(AP/China Daily)
Updated: 2005-11-29 06:42
Latest report: China News Service said the death toll in a massive coal mine explosion in northeast China rose to 138, and 11 others are still reported as missing. So far, 72 have been rescued.

Investigators at the mine found a confusing figure: The attendance roll showed that there should be 254 miners but the number of miners' lamps indicated that 221 actually went into the coal pit.
Li Yizhong, chief of China's work safety watchdog, urged the mine to find out why there was a disparity and where the other 33 were.
Blast leaves 134 dead, 15 missing
The death toll in a massive coal mine explosion in northeast China rose to 134 late Monday and 15 miners were still missing, the Xinhua News Agency reported as the country's leadership called for tighter work safety measures.
Coal dust caught fire at the mine in the city of Qitaihe on Sunday while 221 miners were working underground. More than 70 miners were rescued.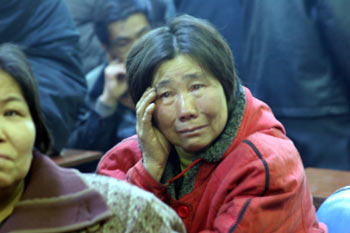 Relatives of the trapped miners wait in tears outside the mine after a blast accident occured at Dongfeng Coal Mine in northeast China's Heilongjiang province November 28, 2005. [newsphoto]
Outside the mine late Monday, distraught family members sought answers. A stream of emergency vehicles with flashing lights traveled back and forth on the narrow road leading to the mine.
A 269-member rescue team was searching for the miners still trapped in the Qitaihe mine, and Li Yizhong, minister of the State Administration of Work Safety, told them to "spare no efforts" to save the workers, Xinhua said.
State television showed rescuers escorting a survivor from the mine, his face and clothes covered in soot.
The explosion knocked out all ventilation systems, Xinhua said, but they were working again Monday.
Compensation for relatives of the victims has been announced, with each family expected to receive 200,000-220,000 yuan (US$24,600-27,100).
It was the second accident in Qitaihe this year.