White House: China not manipulating money
(AP)
Updated: 2005-11-29 06:33
The Bush administration on Monday determined that China was not manipulating its currency to gain economic advantages but still pressed the Chinese to move more quickly to allow the yuan's value to be set by market forces.
The administration's determination, made in a currency report it is required to submit to Congress every six months, disappointed critics who contend that Chinese currency practices play a large role in America's soaring trade deficits.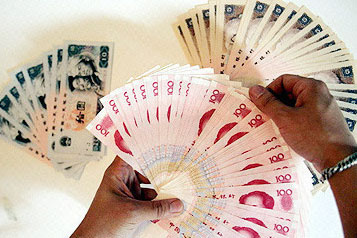 A man lays out various denominations of the Chinese yuan, in Beijing. [AFP]
"The administration's lack of action today hurts all Americans by refusing to acknowledge the obvious ¡ª that China manipulates its currency," said Sen. Chuck Schumer.
Schumer, D-N.Y., is a leading sponsor of legislation that would impose 27.5 percent tariffs on all Chinese imports unless China does more to allow its currency to rise in value against the dollar.
Treasury Secretary John Snow said China's decision to allow a small revaluation of its currency last July had been a factor in deciding not to brand China a currency manipulator, but he said more must be done.
The United States had a trade deficit of $162 billion with China last year, the largest ever recorded with a single country, and this year's deficit is expected to approach $200 billion.
American manufacturers believe that China has purposely kept its currency undervalued by as much as 40 percent, making Chinese goods cheaper for U.S. consumers and making American products more expensive in China.
China in July announced that it was allowing its currency, which had been pegged tightly to the U.S. dollar, to rise in value by 2.1 percent. The Chinese said they would allow the currency to fluctuate by as much as 0.3 percent on a daily basis. However, over the past four months, the yuan has gained less than one percent against the U.S. dollar.
Snow led a U.S. group which included Federal Reserve Chairman Alan Greenspan to China in October to urge the country's government to allow a greater revaluation of the yuan. President Bush made a similar appeal to Chinese leaders this month when he visited China.