Water supply restored to parts of Harbin
By Li Fangchao (China Daily)
Updated: 2005-11-28 05:34
HARBIN: At 6 pm yesterday, Zhang Zuoji, governor of Heilongjiang Province, fulfilled his promise by sipping water at the home of a resident signifying that it was safe to drink as limited supply was restored to the city of 3.8 million after a four-day stoppage.
The water crisis was triggered by pollution from a chemical-plant blast on November 13 on the upper reaches of the Songhua River, which is Harbin's main water source.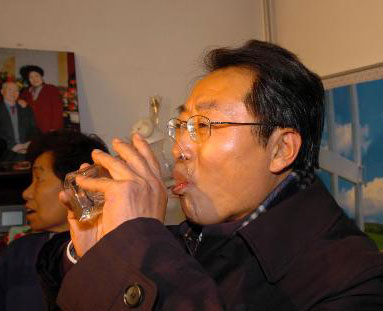 Heilongjiang Province Governor sips water at the home of a resident in Harbin November 27, 2005. [Xinhua]
From 8 pm on Saturday, the density of nitrobenzene and benzene at Sifangtai, Harbin's water inlet, was at safe levels, said Zhou Linbo, spokesman for the Harbin Environment Protection Bureau.
Water checking stations are now being set up downstream to trace contaminated water and counties downstream will be informed in time, Zhou said.
All water-processing plants in the city have had their filtration systems upgraded, he added.
Starting from noon yesterday, water supply to some parts of the city resumed after several trials.
Most parts of two districts Daoli and Daowai got water and supply will gradually be extended to most of the city today, said Liu Yurun, director of the Harbin Water Supply and Discharge Group.
During a visit on Saturday, Premier Wen Jiabao stressed to local officials the importance of releasing information on the situation on time and promised to update Russia with all details.
"Anything concerning the common people is the most important thing," Wen said during a visit to the home of resident Wang Zhaozhong.
He also visited the riverside, a supermarket, one of the city's largest water-processing plants, and the dormitory of Harbin Institute of Technology.
Meanwhile, Foreign Minister Li Zhaoxing formally apologized to Russia on Saturday for the contamination of the river, which flows into Heilong River, called Amur River in Russia.
In his meeting with Russian Ambassador Sergei Razov, Li expressed sincere apologies for the possible harm that could be caused to the Russian people, Xinhua reported.
Li said that China had informed its neighbour of the types of pollutants, density and the position of the moving slick of contaminated water.
The toxic swathe of water is estimated to reach Russia in about two weeks' time and the city of Khabarovsk is preparing an emergency plan.
Meanwhile, Zhang Lijun, deputy director of the State Environment Protection Administration (SEPA), said that the State Council had decided to include the Songhua River clean-up project in the 11th Five-Year Plan (2006-10).
(China Daily 11/28/2005 page1)