Japanese minister raps China over shrine
(Reuters)
Updated: 2005-11-27 14:07
Japan's foreign minister criticized China and South Korea for protesting against Japanese Prime Minister Junichiro Koizumi's visits to a Tokyo shrine for the war dead, media reports said on Sunday.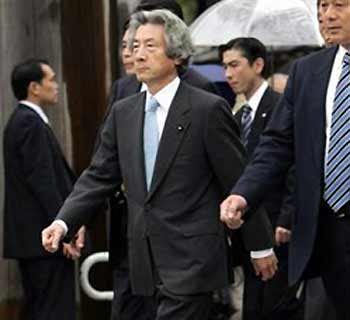 Japanese Prime Minister Junichiro Koizumi arrives at the Yasukuni Shrine in Tokyo Monday, Oct. 17, 2005. [AP]


Reports quoted Foreign Minister Taro Aso as also saying that Japan should not worry about how it is viewed by other countries or whether it has become isolated.

"The only countries in the world that talk about Yasukuni are China and South Korea," financial daily Nihon Keizai Shimbun (Nikkei) quoted Aso as saying, referring to the Yasukuni shrine, which honors some convicted war criminals including wartime Prime Minister Hideki Tojo along with Japan's war dead.

"We don't have to worry about whether Japan is isolated or is not being liked," Aso said in a speech on Saturday, Nikkei added.

The 65-year-old Aso is an outspoken member of the ruling party's conservative camp known for his plain-talking ways, and has landed himself in hot water over remarks regarding Japan's past record in Asia.

In May 2003, Aso caused an uproar in South Korea after he made comments that were interpreted as an attempt to justify some of the actions Japan imposed on the Koreans during its 1910-1945 colonization of the Korean peninsula.

Japan forced Koreans to change their names to Japanese ones during the time, but Aso said that the measure initially began when some Koreans had asked for Japanese names.

Tokyo's ties with Beijing and Seoul have soured after Koizumi took office in 2001 and began his annual visit to Yasukuni, which China and South Korea see as a symbol of Japan's past militarism.

Koizumi, who says he makes the pilgrimages to pray for peace and honor the war dead, last went in October, triggering protests from the two Asian neighbors.

Earlier this month, China turned down Japan's request to hold a meeting between their leaders at the Asia-Pacific Economic Cooperation summit in South Korea.

No formal Japan-China summit has been held since Koizumi took office, although he has met Chinese leaders on the sidelines of international gatherings.