Kung Fu legend Bruce Lee gets statue in Bosnian city
(AFP)
Updated: 2005-11-27 13:46
A statue honouring the late martial arts legend Bruce Lee was unveiled in the southern Bosnian city of Mostar as a symbolic protest against ethnic division.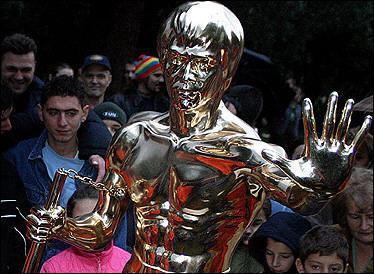 In a rare show of unity some three hundred Bosnian Croats and Muslims braved pouring rain to attend the ceremony unveiling the life-size bronze statue of the kung fu cinema icon in this ethnically divided city.
The statue, made by Croatian sculptor Ivan Fijolic, was unveiled by Nino Raspudic of the Urban Movement of Mostar, a youth association that pushed for a statue to be erected more than two years ago.
"Bruce Lee, you are entering the dragon again!" Raspudic told the crowd referring to Lee's famous "Enter the Dragon" movie.
Lee was chosen as a hero that all ethnic groups could relate to, in a city that was nearly destroyed during fierce fighting between Croats and Muslims and remains bitterly divided.
Mostar is famous for its 16th-century Ottoman bridge, which reopened last year after being destroyed during the Bosnian 1992-95 war.

"Bruce Lee 1940-1973. Your Mostar" is the only text written on the base of the statue.
During the ceremony members of a local kung fu club, dressed in colorful kimonos, demonstrated the martial art skills using the kung fu accessories that included nun chucks, swords and sticks.
"Lee fought for justice freedom and reconciliation. I hope his statue will bring you happiness and prosperity," Chinese ambassador to Bosnia Li Shuyuan told the gathering.
The ceremony was also attended by the German ambassador, whose country's cultural foundation financed the project, and staff of the US embassy here.
Lee starred in a string of hugely successful martial arts films -- "Fists of Fury", "Enter the Dragon", "The Chinese Connection" and "Return of the Dragon" -- in the early 1970s, but he died at the age of 32, in 1973.
"At a time when politics and ethnic ideology have occupied and poisoned everyday life, we want to show that there are true values that have nothing to do with politics," the association earlier said of the initiative.
"It would also be a reminder of our childhood dreams of a just world where crude physical force does not matter, but skill, speed and the will to fight for justice does.
The Mostar city administration has been unified under international pressure but ethnic divisions remain.
Following the war both Croats and Muslims erected monuments and renamed streets after their particular heroes.
"For a moment it did not matter who is Muslim and who is Croat here in Mostar. I'm very happy about it," said Faruk, a 27-year old Muslim.
"It's a great thing for the city. Hopefully we will be recognized by the world for Bruce Lee, and not only for the wartime atrocities and destruction," said Darko Pandza, a Croat teenager.
"I think it is a great idea," said Miljenko Knezovic, a pensioner from Mostar.
"Lee's life has inspired many young people to become sportsmen or actors. His life's mission was a very positive one," he added.
On Sunday, a statue of Lee is due to be unveiled in Hong Kong to mark the 65th anniversary of his birth.
The Bosnian association's members did not hide their joy at beating Hong Kong in the gesture.
"It's cool that we will be the first and Hong Kong the second" to honour the kung-fu film legend with a monument, Raspudic said.
"Today's ceremony is a proof that it is possible to bring here real values, with positive influence and not only things that continue to divide people."