Cold snap grips Europe
(Reuters)
Updated: 2005-11-27 11:44
A sudden winter freeze gripped parts of northern Europe on Saturday with heavy snowfalls cutting power, cancelling football matches and spreading air and road traffic chaos.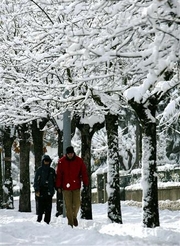 A couple walks through a snow-covered park in the northern Spanish town of Reinosa November 26, 2005. [Reuters]

In Paris, the Eiffel Tower was shut for most of Saturday as ice made its staircases treacherous, while heavy snowfalls meant thousands of people in France and Germany faced plummeting temperatures without electricity.

"We hope power will be restored tonight. Our teams are out there working on it," a spokeswoman for Electricite de France said. Some 7,000 homes out of 17,000 that suffered power failures in France's western Vendee region overnight were still without electricity by nightfall on Saturday, she added.

A quarter of a million people were also without electricity in Germany's most populous state of North-Rhine Westphalia (NRW), authorities there said on Saturday.

Soccer fans in the Belgian city of Liege were disappointed when a keenly awaited clash between Anderlecht and Standard, two giants of the premier division, was postponed because of the cold. A German league match between MSV Duisburg and Cologne was also postponed because of heavy snow.

Air traffic also suffered from the snow and ice. Flights in and out of airports in Paris, Brussels and the north German city of Duesseldorf, the NRW state capital, were all affected.

A Duesseldorf airport spokesman said 36 flights had to be redirected and 25 were canceled. "I have been working at the airport for 11 years and I cannot remember something like this ever happening before," spokesman Torsten Hiermann said.

MOUNTAIN PASSES CLOSED

Brussels airport said it too had experienced cancellations and delays, while a spokesman for France's Aeroports de Paris said 23 flights from Charles de Gaulle airport were grounded.

"It's mostly because of snow on the runways," he said.

The Paris region saw about 5 cm (2 inches) of snow and in northwest France there was up to 10 cm (4 inches). The climatic conditions also threw the northern half of Spain under a bad weather alert, and closed several mountain passes.

Officials said the real danger, however, was extreme cold.

The French government declared a level two state of alert -- decreed when daytime temperatures remain negative and sink to between -5 and -10 C at night -- under its so-called Winter Plan to protect the homeless, for just over a third of the country.

That came after two homeless people died in France during the past 48 hours due to the intense cold.

Traffic snarled across France, with 120 semi-trailers still blocked at midday on the road from the coast to the Breton capital of Rennes in France's northwest. Some 200 semi-trailers had been stuck there earlier in the day.

Heavy snowfall and biting Arctic winds also prompted travel chaos in parts of Britain as people struggled with the cold snap that stranded motorists overnight, caused short-term power cuts and stretched the emergency services.

In southwest England up to 500 people were forced to spend the night in temporary shelters after they were rescued from their vehicles stuck on exposed Bodmin Moor in Cornwall.

By mid-morning on Saturday slightly higher temperatures had triggered a thaw, raising the risk of flash flooding. Britain's Met Office said more snow was forecast for the extreme north, while most of the country will face rain and sleet showers.