Wen visits Harbin; Russia offered sorry
(AP)
Updated: 2005-11-27 09:18
Premier Wen Jiabao visited this city in China's northeast Saturday and expressed concern for the 3.8 million residents enduring a fourth day without running water while they wait for a spill of toxic benzene in a nearby river to pass.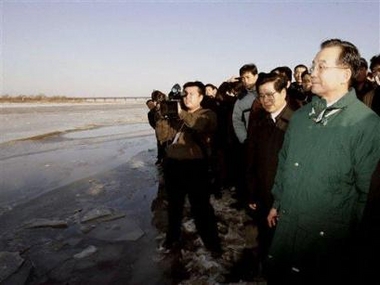 This photo released by Xinhua News Agency, Chinese Premier Wen Jiabao, right, inspects the water pollution of the Songhuajiang River in Harbin, capital of northeast China's Heilongjiang Province, Saturday, Nov. 26, 2005. The Songhuajiang River, Harbin's major water source, was polluted because of blasts happening at a chemical plant Nov. 13 in neighboring Jilin Province. [Xinhua]


The government warned residents that water supplies, suspended to protect the city after a chemical plant explosion, would not resume until 11 p.m. Sunday, a full day later than initially planned.

China has been criticized by environmentalists for its slow response to the disaster and is under pressure from neighboring Russia and the United Nations to release more information about the spill.

On Saturday, China made a public apology to Moscow for any harm that may be caused as the poisonous benzene headed downstream toward a far eastern Russian city.

Chinese Central Television's nightly news broadcast showed Foreign Minister Li Zhaoxing meeting with Russian Ambassador Sergei Razov and paraphrased his apology.

"Li Zhaoxing expressed his sincere apology on behalf of the Chinese government for the possible harm that this major environmental pollution incident could bring to the Russian people downstream," the news report said.

Razov said the response to the accident would have been more efficient if China had informed Russia about it sooner, according to the ITAR-Tass and RIA Novosti news agencies, adding that Li offered China's assistance to help deal with the spill's consequences.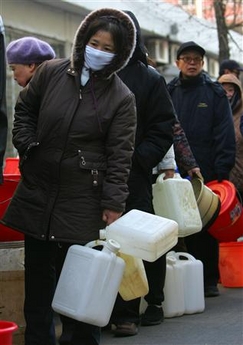 Residents queue to receive water in Harbin, the capital of northeastern Heilongjiang province, November 25, 2005. [Reuters]

Wen's unannounced visit to Harbin appeared to be meant both as a morale boost to government workers who have been struggling to supply residents with water by truck in subfreezing weather and a warning to local authorities to do all they can to help the public.

Local authorities have been criticized already for reacting too slowly to the chemical plant explosion and delaying disclosure to the public.

The premier visited the Harbin No. 3 Water Filtration Plant, where 300 paramilitary police were delivering tons of carbon to filter water from the Songhua River once it is declared safe to use.

"Your work now is work to protect the safety of the masses' drinking water. Thank you, everyone!" Wen told the troops outside the plant, who cheered. "Make the masses' water completely safe, and we must not allow the masses to be short of water."

Also Saturday, investigators were probing the deadly chemical plant explosion that the government says dumped about 100 tons of benzene into the Songhua. The government said Friday that officials found responsible for the blast, which killed five people, would be punished.

Chinese leaders "are paying close attention to this issue and are very concerned about it," chief investigator Li Yizhong was quoted as saying in the newspaper Guangming Daily.

Xinhua News Agency announced that water service would not resume until 11 p.m. Sunday to make sure supplies are safe.

Tests on the river found benzene levels at Harbin dropped below the official limit early Saturday, Xinhua said. But it said another toxin, nitrobenzene, was still at 3.7 times the permitted level.

Government newspapers Friday accused local officials of reacting too slowly to the Nov. 13 chemical plant explosion and criticized them for failing to tell the public the truth until this week.

The comments appeared to reflect a high-level effort to prod authorities in Harbin to do all they can to help the public and to warn officials elsewhere to prevent such disasters.

Environmentalists have accused the government of failing to prepare for such a disaster and of not responding quickly enough. They have questioned the decision to allow construction of a plant handling such dangerous materials near important water supplies.

The plant was run by a subsidiary of China's biggest oil company, state-owned China National Petroleum Corp., which issued an apology this week and sent executives to help dig wells in Harbin.

On Saturday, Harbin residents stood in line in sunny but subfreezing weather to fill buckets and tea kettles with water from trucks sent by the city government and state companies. The local government has been sending daily shipments, and companies with their own wells have been giving away water to their neighbors.

In Russia, environmental officials played down the threat Friday, but regional authorities prepared contingency plans that include shutting down water systems in cities that drink from the river.

The Songhua flows into the Heilong River, which crosses the border and becomes the Amur in Russia, flowing through the city of Khabarovsk.

A UN environmental agency says it has offered to help China with the spill but has received no reply or information about the materials involved or the scope of damage.